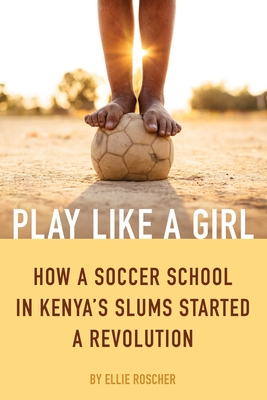 Play Like a Girl
How a Soccer School in Kenya's Slums Started a Revolution
Paperback

* Individual store prices may vary.
Other Editions of This Title:
MP3 CD (8/8/2017)
Compact Disc (8/8/2017)
Description
Growing up and living in Kibera, Kenya, Abdul Kassim was well aware of the disproportionate number of challenges faced by women due to the extreme gender inequalities that persist in the slums. After being raised by his aunts, mother, and grandmother and having a daughter himself, he felt that he needed to make a difference.

In 2002, Abdul started a soccer team for girls called Girls Soccer in Kibera (GSK), with the hope of fostering a supportive community and providing emotional and mental support for the young women in the town. The soccer program was a success, but the looming dangers of slum life persisted, and the young women continued to fall victim to the worst kinds of human atrocities. Indeed, it was the unyielding injustice of these conditions that led Abdul to the conclusion that soccer alone was not enough to create the necessary systemic change.

In 2006, after much work, the Kibera Girls Soccer Academy (KGSA) was established with their first class of 11 girls and 2 volunteer teachers. Today, KGSA is composed of 20 full-time staff, provides a host of artistic and athletic programs for more than 130 students annually, and continues to expand. By providing academics inside and outside of the classroom along with artistic and athletic opportunities, KGSA inspires the young women of Kibera to become advocates for change within their own communities and for Kenya as a whole.

Play Like a Girl tells the KGSA story through Abdul's voice and vision and the stories of key staff and students. It is written by Ellie Roscher who spent 2 summers doing research at KGSA and several years writing this book.
Viva Editions, 9781632280572, 220pp.
Publication Date: August 8, 2017
About the Author
Ellie Roscher holds a master's degree in theology/urban ministry from Luther Seminary and an MFA in creative nonfiction writing from Sarah Lawrence College. She lives in St. Paul, Minnesota, where she teaches theology and coaching. She is the author of How Coffee Saved My Life and Other Stories of Stumbling to Grace.
1. What role does gender play in education? economics?
2. How did you relate or not relate to the characters?
3. Which situations did you find hard to imagine?
4. In your opinion, what was the most pivotal turning point in the school's success?
5. Which person were you the most drawn to?
6. What surprised you? What did you learn that you didn't know before?
7. What scene has stuck with you since you read it?
8. What brokenness or struggles did you see in the slum that you see (albeit on a different scale) in your own life?
9. Did you like Roscher's writing style? Was it effective in communicating the story of KGSA?
10. Do you think a nation's government should play a role in protection society from poverty? How is Kenya doing? How is the US doing?
11. What did the story make you think about in terms of when and where you were born?
12. What can you do in your own life to honor the story?