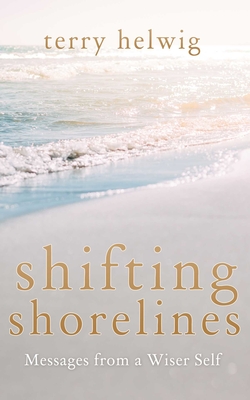 Shifting Shorelines
Messages From a Wiser Self
Paperback

* Individual store prices may vary.
Description
If only you could meet your younger, greener self, along life's shore, what might you say?

Terry Helwig explores this perennial question and how the human heart, tested by time and adversity, broken open by love and beauty, ripens and bears fruit. Her lyrical and compelling reflections awaken us to our place in the vast universe, to the currents of joy and loss, and to the sacred treasure of being alive.

Inspired by her beloved Florida barrier island, Helwig discovers a landscape of fierce beauty within as well as without. She uncovers the solace of following the phases of the moon, the curve of a shell, and the solstice path of the sun. Nature reconnects us to our true center—that place where wisdom blooms.

In the end, the sea's tides mirror the ebb and flow of life. The dance of these perpetual tides changes the contour of our lives—continually shifting the shoreline of who we are and, more importantly, who we will become.
Praise For Shifting Shorelines: Messages From a Wiser Self…
Now and then one comes upon a quietly profound gem of a book. Reading Shifting Shorelines is both an awakening and a solace, much like reading a contemporary Gift from the Sea by Anne Morrow Lindbergh. In the loveliest and most inviting way, Helwig offers the reader the elusive experience of pausing to reflect and re-find the joy, meaning, and sacredness of being alive.
— 'New York Times' Best-selling author Sue Monk Kidd, 'Book of Longings,' 'The Invention of Wings,' and 'Secret Life of Bees'

Shifting Shorelines is a heart-warming invitation to the treasury of the shoreline and the full beauty of life. Helwig opens our eyes to the phases of the moon and the sea's bounty, then seamlessly connects all she witnesses in nature to the inner tides that define our life's journey.
— Paula D'Arcy, author of 'Stars at Night' and 'Waking Up to This Day'

Shifting Shorelines explores the author's intimate relationship with the barrier island where she lives and the wisdom she gathers along its shores. Certain to resonate with women of all ages, this remarkable book is an ode to the natural world and to nature's ability to deepen, inspire, and heal us. It is a powerful reflection on navigating the ever-changing contours of our lives.
— 'New York Times' Best-selling author Ann Kidd Taylor, 'The Shark Club' and 'Traveling with Pomegranates'

It is EXQUISITE. Is it like Gifts from the Sea? Yes, from what I remember, but…It absolutely stands on its own!
— Sheryl Nelsen Hutton/The Self-Help Whisperer®
Viva Editions, 9781632280725, 292pp.
Publication Date: October 12, 2021
About the Author
Terry Helwig is an award-winning author whose new book, Shifting Shorelines, has been praised as a twenty-first century Gift from the Sea. Terry's wise, lyrical, and heartwarming prose reveals a deep thinker who finds meaning and correlation between both her inner and outer worlds. A naturalist at heart, with a master's degree in counseling psychology, Terry says nature and synchronicity have been two of her most profound teachers.

Her favorite pastime, combing the beach of a Florida barrier island, is a dream come true—especially for a child whose turbulent upbringing threatened to overwhelm her. Terry recounts her early struggle to keep hope alive in her coming-of-age memoir Moonlight on Linoleum, which won Elle Magazine's 2012 Grand Prix Nonfiction Book of the Year.

Two of the brightest lights in Terry's sky are her husband Jim and her daughter Mandy.

If you would like to connect online with Terry, visit:

Website: www.terryhelwig.com

Instagram: http://www.instagram.com/terryhelwigauthor

Facebook: https://www.facebook.com/Moonlight-on-Linoleum-by-Terry-Helwig-207652995923286/

Twitter: https://www.twitter.com/@TerryHelwig