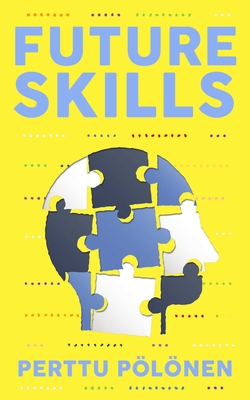 Future Skills
Paperback

* Individual store prices may vary.
Description
What will humanity look like in twenty years . . . in fifty? Which skills should we be cultivating in an age of ceaseless technological progress?

Finnish inventor, composer, and futurist Perttu Pölönen argues that the next revolution is a human revolution. To counterbalance the world we digitalized, we need to develop creativity, perseverance, compassion, and curiosity—those same soft skills that give our lives meaning and set us apart from machines. What can we get from you that we can't get from Google?

Join Pölönen as he takes a practical, personal look at our ever-changing technological landscape while investigating our ability to respond, adapt, and evolve as a society. In the end, his curriculum for the future will empower you to use your uniquely human skills to master a decidedly uncertain future.
Praise For Future Skills…
Our capacity for problem solving is a vital attribute of humankind – and Perttu Pölönen has captured the very essence of what our future depends on. Future Skills is an insightful and encouraging book about what skills we as a society should cultivate in the coming years and why. Filled with inspiring personal stories and thought-provoking examples, this is a book I would make my students read. Perttu is a visionary young thinker.
— Esther Wojcicki, American journalist, educator, and author of Moonshots in Education: Launching Blended Learning in the Classroom
Viva Editions, 9781632280749, 204pp.
Publication Date: September 14, 2021
About the Author
Perttu Pölönen is a multitalent – an inventor, composer and futurist. He has won the 1st prize in European Union Contest for Young Scientists and has been included among the most brilliant innovators under 35 in Europe by MIT Tech Review. In his work Perttu combines knowledge he has acquired from studying in Silicon Valley and working in Myanmar. In his home country, Finland, Perttu has become one of the most sought-after speakers inspiring thousands of people in his lectures.