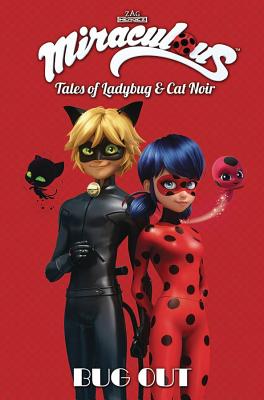 Miraculous (Paperback)
Tales of Ladybug and Cat Noir: Bug Out
Action Lab Entertainment, 9781632293664, 192pp.
Publication Date: June 12, 2018
Other Editions of This Title:
Paperback (11/5/2019)
Paperback (11/19/2019)
Paperback (10/1/2019)
Paperback (7/23/2019)
Paperback (6/18/2019)
Paperback (8/9/2016)
Paperback (2/19/2019)
Paperback (5/14/2019)
Paperback (2/19/2019)
Paperback (8/7/2018)
Paperback (10/30/2018)
Paperback (12/17/2019)
Paperback (12/3/2019)
* Individual store prices may vary.
Description
WINNER OF A 2018 TEEN CHOICE AWARD FOR BEST ANIMATED SERIES Ladybug and Cat Noir must face off against three more of Hawk Moth's akumatized victims. Chlo , after an argument with her hero Ladybug, turns into Antibug, her evil twin with the exact same powers Then, while Marinette is babysitting Manon, the young girl gets upset and becomes Puppeteer, gaining the ability to control some of Ladybug's former foes, including Lady Wifi, Evillustrator and Rogercop. Finally, Lila, who is humiliated in front of her crush Adrien, becomes the villain of illusions, Volpina. Will the two greatest superheroes in all of Paris be able to stop so many villains at once? Find out in the final volume of season one SPOTS ON, CLAWS OUT Collects MIRACULOUS #22-24.