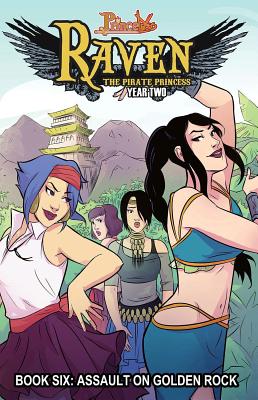 Princeless
Raven the Pirate Princess Book 6: Assault on Golden Rock
Paperback

* Individual store prices may vary.
Other Editions of This Title:
Paperback (12/15/2020)
Paperback (11/26/2019)
Paperback (12/17/2019)
Paperback (3/31/2016)
Paperback (1/10/2017)
Paperback (6/21/2016)
Paperback (6/19/2018)
Paperback (2/20/2018)
Description
Two years ago, Raven Xingtao was locked in a tower and denied her birthright thanks to the scheming of her brothers. After she was freed, she set out to reclaim what was hers and get her revenge. It has been a long time coming, but after tonight the job will be halfway done. On Golden Rock there is a beautiful fortress and at the heart of that fortress is Raven's brother, Magpie. Unfortunately, between Raven and Magpie is every sword swinging, tough as nails pirate that sails under Magpie's flag and Raven has a crew of about a dozen. The only way to get in the same room and face her brother is in disguise. Now, if things go south, there's an army between Raven's crew and their boat. And in plans like this, things always go south eventually.
Action Lab Entertainment, 9781632294166, 160pp.
Publication Date: February 19, 2019