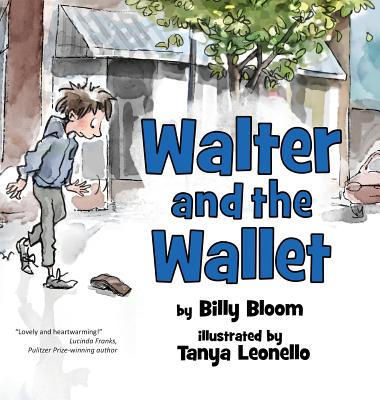 Walter and the Wallet (Hardcover)
Eifrig Publishing, 9781632331168, 38pp.
Publication Date: October 15, 2018
Other Editions of This Title:
Paperback (6/15/2017)
* Individual store prices may vary.
Description
Walter Whippingdale is having the worst day of his life. The girl he likes is making googly eyes at another boy in his class. He struck out during recess. He broke his favorite watch. A giant pimple appeared on his nose. And to top it off, he somehow managed to get mustard in his eye at lunch Walking home from school, his head is hanging low. Which is precisely how Walter spots a wallet lying in the street...a wallet bursting with cash. Suddenly, his terrible day is about to change. But how?
In a lovely, lyrical tale full of life lessons, first-time children's author Billy Bloom has created a rhyming gem of a character development book. Accompanied by Tanya Leonello's beautiful illustrations, you'll be drawn in to this wonderful, lilting story of childhood morality. Perfect for elementary school value-building.
"Lovely...with great illustrations A heartwarming tale for both adults and children...you really want to find out what Walter is going to do with the wallet " Lucinda Franks, Pulitzer Prize winning author
"Walter Whippingdale's awful day takes an unexpected turn for the better when he stumbles across an abundance of cash, in Walter and the Wallet, by Billy Bloom. Rolling, rhyming four-line stanzas, accompanied by Tanya Leonello's expressive watercolors, build excitement as Walter buzzes with the thrill of endless possibilities, and warm the heart as he discovers the rewards of honesty and giving. Perfect for a story-time read-aloud or programs that promote virtues and character building."
Foreword Reviews
About the Author
Billy Bloom is an elementary school teacher in New York. Before becoming a teacher, he had several other jobs, including professional Frisbee player (finishing 6th in the World Championships in 1983), newspaper editor, advertising copywriter, and volleyball league owner. He currently referees middle and high school volleyball and basketball games after school and on weekends. Billy loves to tell people that he hasn't tipped his barber since 1995—he's been cutting his own hair for the past 20 years! This is the first children's book he has written.

Tanya Leonello began her art career in the field of science and medicine, illustrating textbooks and medical journals for doctors and scientists at the University of Michigan. When she became a mother, she discovered the world of children's books, and was inspired to create artwork for a younger audience. While her two children, Ethan and Erin, are in school, Tanya spends her day drawing on her computer with her faithful cockatiel, "Birdi," perched on her shoulder, or whistling at her feet.
Praise For Walter and the Wallet…
"Lovely…with great illustrations! A heartwarming tale for both adults and children…you really want to find out what Walter is going to do with the wallet!"

Lucinda Franks, Pulitzer Prize winning author

"Walter Whippingdale's awful day takes an unexpected turn for the better when he stumbles across an abundance of cash, in Walter and the Wallet, by Billy Bloom. Rolling, rhyming four-line stanzas, accompanied by Tanya Leonello's expressive watercolors, build excitement as Walter buzzes with the thrill of endless possibilities, and warm the heart as he discovers the rewards of honesty and giving. Perfect for a story-time read-aloud or programs that promote virtues and character building."

Foreword Reviews

"Deftly written by Billy Bloom and charmingly illustrated by Tanya Leonello, Walter and the Wallet is the picture book story of Walter Whippingdale -- who is having the worst day of his life. The girl he likes is making googly eyes at another boy in his class. He struck out during recess. He broke his favorite watch. A giant pimple appeared on his nose. And to top it off, he somehow managed to get mustard in his eye at lunch! Walking home from school, his head is hanging low. Which is precisely how Walter spots a wallet lying in the street -- and that wallet is simply bursting with cash. Suddenly, his terrible day is about to change. But how? "Walter and the Wallet" is a lovely and lyrical tale full of life lessons and childhood morality. As entertaining as it is thoughtful and thought-provoking, "Walter and the Wallet" is highly recommended for family, elementary school, and community library picture book collections."

Midwest Book Review (Dec 2016)

"I really enjoyed this book! The rhymes flowed nicely and kept me smiling. Sometimes I roll my eyes at rhyming picture books when I feel like the author took liberties on words in order to fit them into a rhyming structure, but this one flowed effortlessly, making it a joy to read. Whimsical watercolor illustrations bring the story to life, and I especially enjoyed the way the illustrator drew character emotions. I also found the layout of the book really pleasing, with different sized text and a different balance of pictures and words on every page. There is a great message in this book about how being honest and choosing to do the right thing are the best rewards of all. However, Walter and the Wallet manages to deliver this message without being didactic or condescending to kids. I think kids will really love this fun story!"

Meredith Tate on Critical Blast (July 2017)