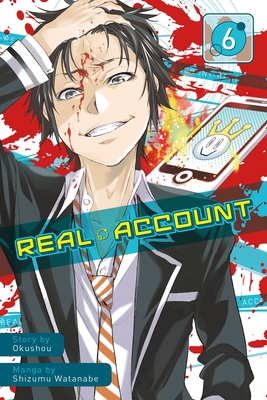 Real Account 6
Paperback

* Individual store prices may vary.
Description
FLAME WAR

With barely a moment for the players to catch their breath, it's already time for the fifth game: "The Great Flamer Festival," a chance to reveal the hidden, personal secrets found on contestants' phones. The game soon deteriorates into a ruthless, voyeuristic bloodbath, stripping players of every last shred of their dignity. Can Yuma and his friends once again put an end to this twisted game? And what will happen when the dreaded Mizuki Kurashina challenges him head-to-head? The results of their battle will reveal unbelievable truths and even more gruesome details!


"An interesting take on a tired premise. Why not tweet your friends about it?" -Anime News Network

"Social commentary wrapped in [a] Battle Royale or Sword Art Online-esque 'death game' plot." - Kotaku

"Recommended! Between wanting to see the next game and curiosity about where writer Okushou is going with his social commentary, I'm looking forward to the next volume." -Otaku USA
Kodansha Comics, 9781632363473, 224pp.
Publication Date: March 28, 2017