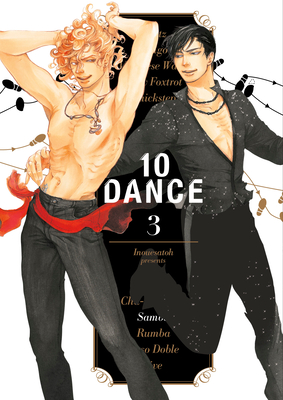 10 DANCE 3
Paperback

* Individual store prices may vary.
Description
Yaoi fans, dip into your new obsession! The beautifully-detailed, lithe bodies of the two "kings of the ballroom" fly across the dance floor as rivals build a volatile bond in this red-hot romance!

MASQUERADE

As if learning the moves wasn't hard enough, Sugiki needs to master a crucial element if he's to succeed in Latin Ballroom: sex appeal. Suzuki takes a personal approach in teaching him the art of seduction, but what happens when the student learns too well? And Suzuki has problems of his own: With the 10 Dance competition on the horizon, he must raise his Standard rank, or risk losing the chance to compete at all. And just as the pair starts to understand their relationship to each other, a secret from Sugiki's past threatens to undo everything.
Kodansha Comics, 9781632367679, 192pp.
Publication Date: May 21, 2019
About the Author
Running in Young Magazine the 3rd in Japan, 10 Dance is Satoh Inoue's debut manga series and her first to be translated into English.