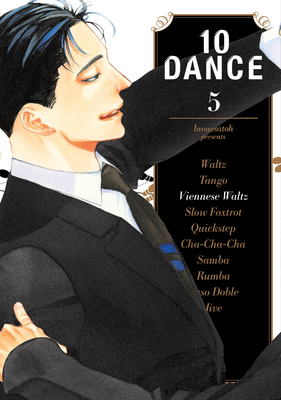 10 DANCE 5
Paperback

* Individual store prices may vary.
Description
Yaoi fans, dip into your new obsession! The beautifully-detailed, lithe bodies of the two "kings of the ballroom" fly across the dance floor as rivals build a volatile bond in this red-hot romance!

Lords of Dance

The brilliant Latin dancer Suzuki has finally set aside his pride in order to seriously dedicate himself to competition--but how far will that carry him when his opponents are the top two dancers in the world? Even as the audience cheers for his performance, nobody notices the tense moment when he locks eyes with Sugiki, who watches from the sidelines. Sugiki's feelings for Suzuki are threatening to overwhelm both men--but is this really love? And if it is, are they prepared for what that love may demand from them?
Kodansha Comics, 9781632368256, 224pp.
Publication Date: December 31, 2019
About the Author
Running in Young Magazine the 3rd in Japan, 10 Dance is Satoh Inoue's debut manga series and her first to be translated into English.