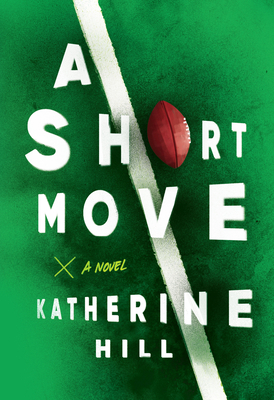 A Short Move
Paperback

* Individual store prices may vary.
Description
This is definitely a good book for football fans. But it's a great book for fans of men and boys, so many of them caught up in the dark world of dreams come true.--New York Times Book Review
"A Short Move is an ode to both the singular glory and the heavy cost of greatness. Katherine Hill uses the rhythms of the sports novel to explore everything from the complexities of masculinity to the illusion that is the American Dream--and makes the form her own in the process. This is a deeply felt and beautifully expansive novel, one that captures vital dimensions of American life."--Laura van den Berg
"In Katherine Hill's audacious new novel, A Short Move, football is not only the subject, but a lens through which Hill examines contemporary life under capitalism. In Hill's sharply observed, brilliant prose, this ur-American game ultimately becomes a metaphor for human relationships, for the ecstasy and vulnerability within the body, and for life itself. This is a beautifully written novel about loss and endurance, about men and women doing the best they can with the gifts they've been given."--Ren Steinke, author of Friendswood
"A Short Move is an expansive and beautifully written novel. Through the story of star linebacker Mitch Wilkins, Katherine Hill explores the sacrifices men make to become legends, and the toll their fame takes on everyone close to them. This book is about more than just the complicated and contradictory life of a football star who wishes he were a better man; it is a profound depiction of masculinity, obsession, power, and the unexpected beauty we find even in our darkest hours."--Tom McAllister, author of How to Be Safe
I submit that there is nothing you can't get to about American culture through sports, and I further submit, as evidence, Exhibit A: A Short Move, Katherine Hill's splendidly written and smartly observed second novel.--David Shields, director of Marshawn Lynch: A History and author of Black Planet: Facing Race During an NBA Season
Fans of sweeping family epics will enjoy this dissection of fame, sports, and the drive for connection.--Publishers Weekly
In a small Virginia town in 1971, a high school football star runs out on his pregnant girlfriend. Six years later, that child meets his father for the first time and discovers the athlete within. Before long he is on the fast-track to the NFL, coached by a relentless Vietnam veteran uncle, nourished by a patient working mom, and defended by an ambitious girlfriend, all of whom tie their own hopes to his career. When he finally makes it, as Mitch Wilk Wilkins, New England's fearsome middle linebacker, it all seems preordained. Then, almost immediately, his life begins to fall apart: a billionaire owns him, his marriage is on the rocks, and his body is betraying him in stages. As Mitch and his wounded family press on, seeking meaning in a relentlessly incentive-driven and forward-moving life, the sacrifices necessary for success in sports--and in attaining the "American Dream"--are laid painfully and tragically bare.
Ig Publishing, 9781632461032, 288pp.
Publication Date: June 23, 2020
About the Author
Katherine Hill is the author of the novel The Violet Hour (Scribner 2013). With Sarah Chihaya, Merve Emre, and Jill Richards, she is also co-author of The Ferrante Letters: An Experiment in Collective Criticism (Columbia University Press, 2019). Her fiction, essays, and reviews have appeared in numerous publications, including AGNI, The Believer, Bookforum, Colorado Review, The Common, The Guardian, Guernica, The Literary Review, n+1, The Nation, The New Republic, The Paris Review Daily, Philadelphia Inquirer, Publishers Weekly, San Francisco Chronicle, and Tin House. Katherine is assistant professor of English at Adelphi University, assistant fiction editor at Barrelhouse, and a graduate of Yale and the Bennington Writing Seminars. Her writing has been awarded fellowships from the New York Public Library, the Virginia Center for the Creative Arts, and Yaddo. Born in Washington DC, she now lives in Brooklyn.