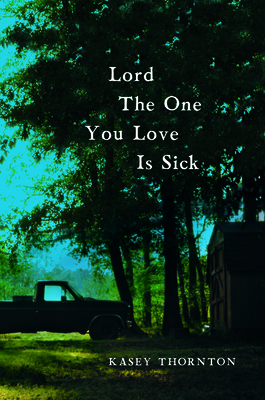 Lord the One You Love Is Sick
Paperback

* Individual store prices may vary.
Description
A Most Anticipated: The Great Second-Half 2020 Book Preview selection by The Millions
"These stories collectively coalesce into a resonant, emotionally searing nexus of hard truths, buried secrets, and emotional pain that readers won't soon forget. Thornton's accomplished stories are full of insights on their rural American setting and inhabitants' psychology."--Publishers Weekly
"In her powerful debut collection, Kasey Thornton skillfully builds a memorable community, exploring with heartbreak and humor the regrets and desires of those who live there. Thornton is a wonderful writer and a natural storyteller."--Jill McCorkle, author of Hieroglypics
"Lord the One You Love Is Sick is a beautifully constructed, humanely told novel-in-stories about loss and recovery, judgment and forgiveness, and the darkest of secrets. Kasey Thornton writes with honesty, warmth, and deep insight into how we recover, and why we sometimes can't. Her characters will live a long time in your mind, and her book will take your breath away."--Belle Boggs, author of The Gulf
"What a smart, elegant, emotionally honest way to tell the story of a life - by giving us the stories that spiral from one tragic death. Lord the One You Love is Sick is entirely unafraid in its depiction of our most difficult and profound hurdles. A gripping and gorgeous exploration not only of small town connections, but the kind of loss whose wake refuses to subside."―Nina de Gramont, author, The Last September
"Every small town has its secrets. Thornton's searing novel introduces us to the people who keep them walled up behind the cheery facades of their houses. With an unerring ear for how real people speak, and a wisdom about how real people do and don't solve their problems, Thorton's riveting debut earns its place on the shelf of contemporary Southern classics."--Wilton Barnhardt, author of Lookaway, Lookaway
"In Lord the One You Love is Sick, Kasey Thornton, with a clear eye and a kind heart, expertly navigates the currents in the small pond that is the contemporary Southern town of Bethany, North Carolina. Her broad cast of well-realized characters demonstrate how the everyday assumptions in such a town can consign people to neglect and misunderstanding, and how individuals struggle against those internalized definitions to create their own lives. A cry for charity."--John Kessel, author of Pride and Prometheus
"What a pleasure it was to discover a book like this, at this moment, when the cultural conversation is running always towards opinion. Here is the realm of fiction, with its love of failure and difficulty, it's respect for broken humanity. This intelligent, young writer is alive with talent, and these serious, beautiful, funny stories should be read carefully."--Rebecca Lee, author of Bobcat and Other Stories
"Propulsive, painful, sharp-edged and shot through with redemption, Kasey Thornton's Lord the One You Love is Sick belongs on a shelf with Bobbie Ann Mason's Shiloh and Sherwood Anderson's Winesburg, Ohio. Read it not just for the deep satisfaction of seeing the plot quilt itself together: read it because these people are family, because they're the people we fear we could be, and because, ultimately, they're the people we hope we might become. The ending comes at you like a train in the night. I could not put it down. Lord, I loved this book." --Drew Perry, author, This Is Exactly Like You
Gentry Coats' fatal overdose stuns a small community in North Carolina, triggering a series of tragic events that threaten the town's traditional values. It triggers a mental breakdown in his best friend, a police officer, whose wife grapples with the burden of her vows in the face of her husband's disturbing behavior. Bitter and lonely, Gentry's mother struggles to place blame surrounding the death of her oldest son, while her younger son retreats into a strange and devastating isolation. And, on the outskirts of town, an eight-year old girl and her older sister cope with an unspeakable secret. All the while, the patriarchs of the community sit together gossiping at the local diner, trusting the Lord to heal the afflictions that haunt their beloved town.
A novel in stories, Lord the One You Love is Sick is a gorgeously written and heartrending work of fiction from an important new voice in the literature of the American South.
Ig Publishing, 9781632461179, 232pp.
Publication Date: November 17, 2020
About the Author
KASEY THORNTON attended both the University of North Carolina at Wilmington and North Carolina State University for her MFA in Fiction. Her creative work has been featured in the Masters Review, TJ Eckleberg Review, tinyjournal, Colonnades Literary & Art Journal, and Apeiron Review. She lives with fellow author Kevin Kauffmann in Durham, North Carolina, where her family has resided for over two hundred years.