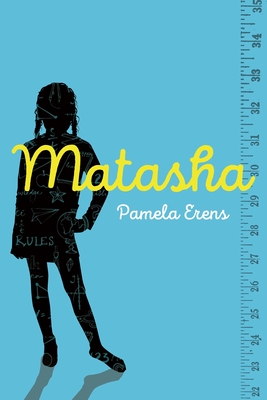 Matasha
Paperback

* Individual store prices may vary.
Other Editions of This Title:
Hardcover (6/29/2021)
Description
The many pleasures of this novel include its empathy and poker-faced wit, and the charms of its main character.--Meg Wolitzer, New York Times Book Review
"Beautifully renders the slow-motion alchemy of growing up; mesmerizing and memorable."
--KIRKUS (starred review)
"Matasha evokes a time and a place and a childhood with startling honesty and clarity, honoring the intelligence of a curious younger reader and the sophistication of an older reader alike. I'll follow Pamela Erens anywhere, and am not surprised that this is where she's led me: to a brilliant, hilarious, sharp-edged novel for everyone."--REBECCA MAKKAI, author of The Great Believers
"Authentic, witty, and painful, Matasha is a delightful middle grade debut, crammed with delicious period details. Matasha, an only child, must navigate awkward friendships, growth-hormone treatments, and parents who always bewilder and disappoint. A 1970s coming-of-age story that rings true of then--and now."--MARINA BUDHOS, author, The Long Ride and Watched
"Matasha's brave and original heroine reminds me of Harriet the Spy and Blubber, her perspective captivating and inimitable. It's a joy to watch Matasha grow up, making meaning of everything. This novel has tremendous sweep and scope, with all the joys, sorrows, and revelations of a real girlhood."--RACHEL DEWOSKIN, author of Big Girl Small, Blind, and Someday We Will Fly
"The narrator of Matasha may be small for her age but she is years ahead of her peers in how she faces a growing series of challenges. Matasha has to deal with the casual cruelty of her classmates, her growing alienation from her longtime best friend, her increasing awareness of her mother's dissatisfaction, and her own health issues, handling them all with a thoughtfulness that feels realistic (especially when interrupted by the occasional spectacular temper tantrum). Readers of all ages will enjoy seeing 1970s Chicago from her vantage point." --MICHELLE FALKOFF, author of Playlist for the Dead and How to Pack for the End of the World
"Tender, funny, and endlessly surprising, Matasha perfectly captures the confusion of being an eleven year old girl and trying to solve all of life's mysteries, big and small. This wonderful book--and the wonderful girl at its center--will stay with me for a very long time."--ROBIN WASSERMAN, author, Girls on Fire, The Book of Blood and Shadow and Hacking Harvard
It's 1970's Chicago. Eleven-year-old Matasha Wax is in the sixth grade and just starting to feel the pressures of growing up. Her best friend Jean has been blowing her off, while her parents are in a standoff over her mother's desire to adopt a refugee from Vietnam. And while the bullies in school have started to grow breasts and inches, Matasha remains a puny four-foot-four - which means she will need growth hormone shots, and she is terrified of needles. Apart from her daily reading of the advice columns in the newspaper, keeping up with the Patty Hearst and Watergate scandals, and tracking her parents' deteriorating marriage, Matasha is fixated by the story of Martin Kimmel, a nine-year-old boy who disappeared a few months ago, and whose body has yet to be found. But none of these ongoing problems could have prepared Matasha for her mother's sudden disappearance. When the letters start coming from Switzerland, she knows something is very, very wrong - but no one will tell her what's going on, so Matasha has to figure it all out for herself. A tale of growing up and growing apart, Matasha is a poignant look at resilience in the face of adolescent loneliness, divorce, bullying and slow development. Pamela Erens has crafted an intimate novel for readers who loved My Jasper June by Laurel Snyder, The Line Tender by Kate Allen, and Some Places More Than Others by Renee Watson.
Igkids, 9781632462008, 296pp.
Publication Date: June 1, 2021
About the Author
Pamela Erens is the author of the adult novel, Eleven Hours, which was named a Best Book of 2016 by NPR, the New Yorker and Kirkus, and was lauded by publications including the New York Times and the Wall Street Journal. Her previous novel, The Virgins, was a New York Times Book Review and Chicago Tribune Editors' Choice and was named a Best Book of 2013 by the New Yorker, the New Republic, Library Journal and Salon. Pamela's work has appeared in the New York Times, Slate, Vogue, Elle, and the Virginia Quarterly Review.