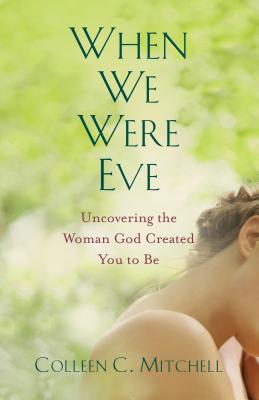 When We Were Eve (Paperback)
Uncovering the Woman God Created You to Be
Franciscan Media, 9781632532121, 192pp.
Publication Date: December 19, 2017
* Individual store prices may vary.
Description
"We are walking back to the Garden of Eden together and trying to remember who were when we were Eve."

In When We Were Eve, Colleen Mitchell draws on the creation story in Genesis to show women God's gracious plan for their whole being: body and soul in harmony with themselves, others, creation and their Creator. Through her own story and those of other women, she explores the many ways women struggle with their bodies and the way a biblical understanding of what it means to be a woman can bring them peace and joy.

"Eve in Eden is woman in her perfection," writes Mitchell. "The last note of the creation song states that the man and his wife were both naked and they were not ashamed.... This is the perfected state of our humanity--vulnerable, open, aware of our bodies and ourselves and understanding of others. Intimately free to be who we are before God."

Through the stories of Eve (before and after the Fall), Bathsheba, Hannah, the woman of Proverbs 31, Sarah from the Book of Tobit, the hemorrhaging woman in Mark's Gospel, the synagogue leader's daughter, and the bride from the Song of Songs, she helps readers find new perspectives on what it means to be a woman: young, old, single, married, mothers, nurturers, strong and vulnerable, loving and being loved.

Questions for reflection encourage readers to deepen their own awareness and a final section offers prayers for the many seasons and circumstances of a woman's life.

The audio edition of this book can be downloaded via Audible.
About the Author
Colleen Mitchell is a wife, bringer-upper of boys, Gospel adventurer, wannabe saint, author and speaker. She is the author of the award-winning Who Does He Say You Are: Women Transformed by Christ in the Gospels. Her latest adventure has taken her from the jungle of Costa Rica where she and her family served as missionaries for six years, to the wilds of a sixth-grade classroom in Indiana, where she is still living her mission to give everyone she meets just a little Jesus.