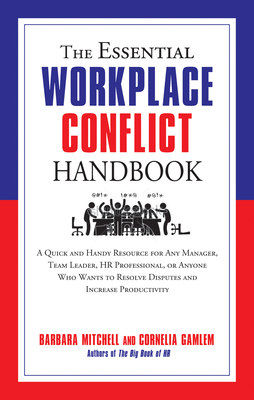 The Essential Workplace Conflict Handbook (Paperback)
A Quick and Handy Resource for Any Manager, Team Leader, HR Professional, Or Anyone Who Wants to Resolve Disputes and Increase Productivity (The Essential Handbook)
Career Press, 9781632650085, 256pp.
Publication Date: September 21, 2015
* Individual store prices may vary.
Description
Today's workplaces are dynamic, so it shouldn't surprise anyone that tension can develop quickly and ruinously.
The Essential Workplace Conflict Handbook
is the ideal resource for anyone ready to confront conflict at work rather than run from it. Managed correctly, conflict can be a positive source for innovation and creativity.
Using examples drawn from a wide range of corporate and entrepreneurial experiences, along with checklists and other practical tools,
The Essential Workplace Conflict Handbook
will help employees, managers at all levels, and business owners answer the following important questions:
What's changing in the workplace and the workforce today?
Are the right issues being addressed?
How can we create more options to solve conflicts?
What's my conflict style, and why is it important?
How should I set and manage expectations?
What happens when disruptive behavior gets out of control?
Positive interactions are critical to successful workplaces. This vital new title gives you the confidence you need to communicate effectively, as well as a clear understanding of your individual responsibility, no matter your title or role. It also gives the organization a plan for what it can do to foster a tension-free workplace.
About the Author

Barbara Mitchell is an author, speaker, and human resources consultant. She is the coauthor of The Big Book of HR, The Essential Workplace Conflict Handbook, The Conflict Resolution Phrase Book, and The Essential HR Handbook. Most of her HR career was spent with Marriott International. Barbara is managing partner of The Mitchell Group and an innovative career transition coach.


Cornelia Gamlem, SPHR, president of The GEMS Group, Ltd., consults, speaks, and writes on human resource and management issues. A recognized expert in employee relations and human resources, she has coauthored four books, three with Barbara. Cornelia spent most of her HR career with a Fortune 500 IT services company with a global presence.

Praise For The Essential Workplace Conflict Handbook: A Quick and Handy Resource for Any Manager, Team Leader, HR Professional, Or Anyone Who Wants to Resolve Disputes and Increase Productivity (The Essential Handbook)…
"In their latest book, Mitchell and Gamlem do a great job identifying some of the causes of conflict and offer suggestions on what individuals and 
organizations can do to resolve and manage them. Through stories and advice, they give readers the tools they need. This is a must-read for 
managers, HR professionals, and employees!"

--Sue Meisinger, Esq., SPHR, CEO, Society for Human Resource Management (retired)

"Mitchell and Gamlem, two experienced and talented HR professionals, have produced a book rich in content...on an extremely important and difficult topic. The Essential Workplace Conflict Handbook provides proven techniques for dealing with conflict in organizations of all types. The specific examples give much-needed insight into conflict management."
--Christopher J. Shinkman, PhD, author of Real People, Real Jobs, former director of MBA Services at Georgetown University

"...practical guidance on how to diagnose sources of conflict and proven practices to nip it in the bud. If you're working with other people, 
you need to read this book."
--Scott Eblin, author of The Next Level and Overworked and Overwhelmed