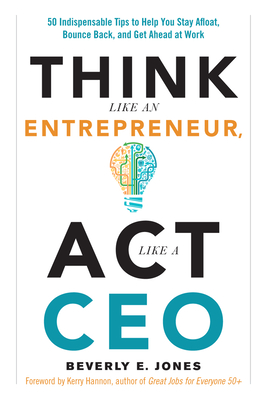 Think Like an Entrepreneur, Act Like a CEO (Paperback)
50 Indispensable Tips to Help You Stay Afloat, Bounce Back, and Get Ahead at Work
Career Press, 9781632650177, 224pp.
Publication Date: December 21, 2015
* Individual store prices may vary.
Description
Education plus experience once guaranteed a successful career, but no more! Today, success depends on your ability to adapt. You must be agile, willing to adjust your professional expectations, and able to respond quickly to opportunities and threats.<

In Think Like an Entrepreneur, Act Like a CEO you will learn practical ways to handle vexing workplace challenges. Each chapter uses true stories to illustrate the answers to common questions, including:


How to leave your old job smoothly and start your new one with confidence and flair.

How to gracefully accept praise for your work.

How to recover from stress, setbacks, or the upheaval of a major project.

How to stay steady in the midst of endless change.

It's not enough to know how to manage common work-life challenges; you must also deal with the uncommon ones. Think Like an Entrepreneur, Act Like a CEO gives you proven, easy, go-to techniques for handling even the biggest career surprises, one step at a time.
About the Author

Beverly Jones, MBA, JD, PCC, is a master of reinvention. She led university programs for women before trailblazing her career as a Washington lawyer and Fortune 500 energy executive. For 40 years she has helped other professionals and leaders survive and thrive.

Since 2002, Jones has built a respected executive coaching and consulting practice, leading retreats and mentoring professionals of all ages to advance their careers, shift directions, or boost their productivity. Based in the nation's capital, she works with accomplished leaders in Congress, at major federal agencies, NGOs, universities, and large corporations. She is a popular blogger, and her podcasts are distributed through public media.

Praise For Think Like an Entrepreneur, Act Like a CEO: 50 Indispensable Tips to Help You Stay Afloat, Bounce Back, and Get Ahead at Work…
"This great resource--it's like having your own career coach in a book! 
Think Like an Entrepreneur, Act Like a CEO will help you see more possibilities 
and avoid missteps, as well as help you recover quickly after a fall."
--Holly Williams, founder of Magus Group Coaching and author of Being Coached

"Each chapter is a gem [that hones] in on a lesson, with a real person to illustrate it and techniques to help you find a new attitude and solve a problem."
--Kerry Hannon, journalist and Washington Post best-selling author

"Beverly Jones has used what she learned as a pioneering woman in business and the law to help guide an untold number of professionals struggling to navigate a work world beset by staggering change. She was my mentor decades 
before there was such a thing. Now she can be yours, too."
--Susan Reimer, award-winning columnist for The Baltimore Sun

"Looking to reinvent and energize your career? Check out Bev Jones' new book. Her stories and strategies have helped many professionals to refresh their goals, recover from setbacks and relaunch themselves with new confidence, energy, 
and ultimately, success!"
--Clarence Page, 1989 Pulitzer Prize-winning syndicated columnist for the Chicago Tribune
or
Not Currently Available for Direct Purchase