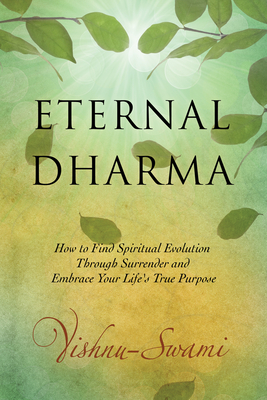 Eternal Dharma (Paperback)
How to Find Spiritual Evolution through Surrender and Embrace Your Life's True Purpose
New Page Books, 9781632650375, 272pp.
Publication Date: January 23, 2017
* Individual store prices may vary.
Description
We often feel powerless in our lives. We have many desires but are limited in our ability to transform those wishes into tangible results. We are confused and unsure about what will really make us happy. In
Eternal Dharma
, Vishnu Swami guides you on a journey to align yourself with the natural flow of existence through the ancient Eastern knowledge of Veda.
Eternal Dharma
distills 5,000 years of spiritual wisdom so you can learn to live an enlightened, effective, and fulfilled life.
Vishnu Swami inspires you to take action and manifest your fullest spiritual potential in everything you do:
Explore the subtle and physical domains to achieve a totally new relationship with reality.
Learn the radical new system of effectiveness.
Gain clarity on all spiritual and religious paths.
Free yourself from pain and suffering to reach pure, transcendental love.
About the Author

Vishnu Swami, also known as the Maverick Monk, relocated to study Veda at a monastery in India at the age of 11 and later became the youngest swami to be honored with that position at the extraordinary age of 23. He has appeared on television and radio and in newspapers internationally, and was featured in an award-winning spiritual documentary in Hollywood. He continues to empower and inspire thousands through his writings, speaking, and online college-accredited courses at Vishnu-Swami.com.

Praise For Eternal Dharma: How to Find Spiritual Evolution through Surrender and Embrace Your Life's True Purpose…
"Whether you're looking to jumpstart your spiritual journey, or are looking for an inspiring and thought-provoking new book to read, Eternal Dharma is an excellent spiritual guide for both mind and soul." --Cassie Cartaginese, Yogi Times
— Cassie Cartaginese
"We launched some of the best titles in the world--Chicken Soup for the Soul, The Secret, Rich Dad Poor Dad, Men Are From Mars--I can't count them all. We've broken the Guinness Book of Records six times and Vishnu Swami has written something internally that is going to bring a transformation to you that's like Uncle Ben's Minute Rice; you're going to set the timer on your microwave oven, read through these pages, and you're going to have an eternal shift that is going to forever change you.

Vishnu Swami has written the truth in a form for tomorrow, today. This will change you, and give you abundance in your personal life, your workspace life, and your life with your relationship with eternity. I think for peace, joy, happiness, breakthroughs in performance, and having the balance that you were looking for in this crazy world we live in--I can't recommend enough that you get the next best-seller, that we think will break the Guinness Book of Records all over again. Get the book. Get five, to thrive." --Berny Dohrmann, Chairman of CEO Space International
— Berny Dohrmann