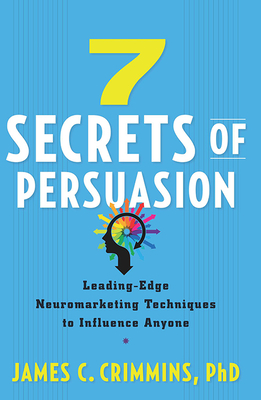 7 Secrets of Persuasion (Paperback)
Leading-Edge Neuromarketing Techniques to Influence Anyone
Career Press, 9781632650603, 224pp.
Publication Date: September 19, 2016
Other Editions of This Title:
MP3 CD (9/19/2017)
MP3 CD (9/19/2016)
Compact Disc (9/19/2016)
Compact Disc (9/19/2016)
* Individual store prices may vary.
Description
7 Secrets of Persuasion is the first book to take the latest scientific insights about the mind and apply them to the art of persuasion. It directly translates the revolution in neuroscience that has occurred over the last 40 years into practical new techniques for effective persuasion.

Whether your goal is to persuade one person--a husband, child, or boss--or the millions who might purchase an Apple Watch or a Budweiser, 7 Secrets of Persuasion will show you how to:

Unearth the motivation that actually changes a behavior like smoking, voting, or buying, even though people don't know why they do what they do.

Tap into the mental process that gives religious symbols, political symbols, and commercial logos their power.

Make a promise that is delayed, uncertain, and rational more compelling by making it immediate, certain, and emotional.

Transform your candidate, service, or product into the one people want by utilizing what psychologists call the "fundamental attribution error."
About the Author

James C. Crimmins has been a professional persuader for 27 years, mainly as chief strategic officer of DDB Chicago and a worldwide brand-planning director with clients such as Budweiser, McDonald's, State Farm, and Betty Crocker. He has earned a PhD in sociology and a master's degree in statistics, and has taught integrated marketing communication at Northwestern University's Medill School. Crimmins combines his scientific, professional, and academic background to explain how the revolution in mind science changes the conventional wisdom of influence and can make anyone a more successful persuader.

Praise For 7 Secrets of Persuasion: Leading-Edge Neuromarketing Techniques to Influence Anyone…
"Understanding effective persuasion is foundational for anyone interested in the field of marketing and communications. The reason is beautifully explained, and exemplified in 7 Secrets of Persuasion. Jim helps us understand what's primal and true about us, but more, he brings persuasion to life with example after example."
--Tom Collinger, executive director, Spiegel Digital & Database Research Center, senior director, Medill Distance Learning, Northwestern University

"Jim Crimmins explains what really drives human behavior. For anyone who hopes to influence what people do or what they buy, Jim's book is required reading."
--Keith Reinhard, chairman emeritus of DDB Worldwide and a member of the Advertising Hall of Fame