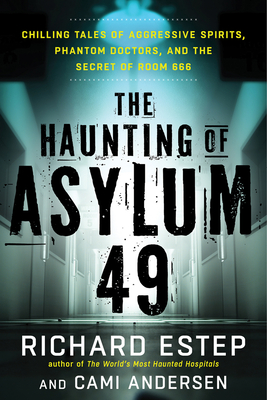 The Haunting of Asylum 49 (Paperback)
Chilling Tales of Aggressive Spirits, Phantom Doctors, and the Secret of Room 666
New Page Books, 9781632650627, 192pp.
Publication Date: August 22, 2016
* Individual store prices may vary.
Description
Everybody loves a good scare at Halloween, but visitors to most "haunted houses" know the most frightening things are just actors in monster makeup and spooky special effects. Deep down, we all know that the ghostly inhabitants are fake...

...except at Asylum 49.

This unassuming former medical facility outside Salt Lake City stands next to a graveyard and is home to a full-contact Halloween haunt with a difference: the ghosts are all too real, and they are very willing to interact with the living. Hundreds of staff members, customers, and ghost hunters have encountered them firsthand over the years.

Join paranormal investigator Richard Estep and Asylum 49 owner Cami Andersen for a behind-the-scenes insider tour of one of the world's most haunted hospitals. Meet the ghostly children who like to tease unsuspecting visitors and the angry ER doctor who insists on things being done his way...or else. Explore the maze, home to a malicious dark entity named "The Guardian," and meet Jeremy, who died of severe burns and whose appearances are heralded by the smell of lingering smoke. These and the many other restless spirits have their own stories to tell, their own reasons for continuing to haunt the darkened rooms and shadowy hallways.

And they are very eager to meet you....
About the Author

Richard Estep has spent the past 20 years investigating claims of the paranormal on both sides of the Atlantic and spent time in some of the most haunted places in the world. Some of Richard's most fascinating cases were filmed for the TV show Paranormal Investigator in 2016, including that of Asylum 49. He is the author of The World's Most Haunted Hospitals and director of the Boulder County Paranormal Research Society.


Cami Andersen is owner of the Old Tooele Valley Hospital, Asylum 49, along with her husband Kimm, niece Dusty Kingston, and sister-in-law Sonja Andersen. She has been investigating claims of paranormal activity in homes and business across Utah and the surrounding states for more than a decade, while continuing research into the mysteries of the spirits at the Old Tooele Valley Hospital.

Praise For The Haunting of Asylum 49: Chilling Tales of Aggressive Spirits, Phantom Doctors, and the Secret of Room 666…
"Very intriguing…"
--Christopher Saint Booth, film producer and author, Paranoia

"Being a seasoned investigator myself and a visitor to Asylum 49, I have personally witnessed some of the chilling activity that goes on behind the doors of the Old Tooele Hospital, but what I experienced was just the tip of the iceberg. Discover the events leading to Asylum 49 and follow along as a team of ghost hunters investigate the many paranormal claims coming from inside the building...you may leave with more questions than answers."
--Paul Bradford, star, Ghost Hunters International

"Welcome to a world of possibilities, of nightmares, and hope. Welcome to the reality that is The Haunting of Asylum 49."
--Dave Schrader, host of Darkness Radio and guest host of Coast to Coast AM