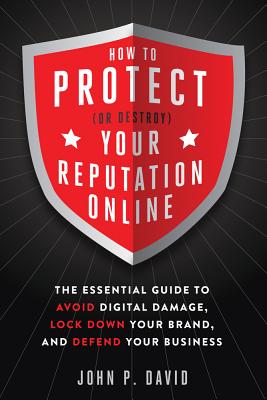 How to Protect (Or Destroy) Your Reputation Online
The Essential Guide to Avoid Digital Damage, Lock Down Your Brand, and Defend Your Business
Paperback

* Individual store prices may vary.
Description
With virtually nonexistent oversight, the internet can easily become the judge, jury, and executioner for anyone's reputation. Digital attacks and misinformation can cost you a job, a promotion, your marriage, even your business. Whether you've done something foolish yourself, are unfairly linked to another's misdeeds, or are simply the innocent victim of a third-party attack, most of us have no idea how to protect our online reputation.

How to Protect (Or Destroy) Your Reputation Online will show you how to:

Remove negative content from search results.

React and respond to an online attack.

Understand and manage online reviews.

Use marketing strategies to both improve your online reputation and bolster your bottom line.

How to Protect (or Destroy) Your Reputation Online is an indispensable guidebook for individuals and businesses, offering in-depth information about popular review sites like Yelp, TripAdvisor, and Angie's List. John also shows you how to deal with revenge porn, hate blogs, Google's "right to be forgotten" in Europe, the business of online complaint sites, even the covert ops of reputation management.
Praise For How to Protect (Or Destroy) Your Reputation Online: The Essential Guide to Avoid Digital Damage, Lock Down Your Brand, and Defend Your Business…
"Perception is in the eye of the beholder. In a connected society, your reputation precedes you. What you do, say, share and even consume online defines you. John David makes it very clear that without management and intent, your reputation is left for others to interpret."
--Brian Solis, digital analyst, anthropologist, and author of X: The Experience When Business Meets Design
— Reviews

"The tools of online content and social media give everyone who wants one a (potentially loud) public voice. This profound revolution in human communications is terribly exciting, but comes with risks because anyone can say anything at any time, whether true or not. John expertly guides you through the challenges and pitfalls of online reputation so you put your best face forward when customers are looking for you or your brand on the Web."
--David Meerman Scott, bestselling author of The New Rules of Marketing and PR
— Reviews

"Your personal reputation is the most important thing you have in business. Read this book to make sure you keep it!"
--Jeffrey Hayzlett, primetime TV and podcast host, chairman of C-Suite Network
— Reviews

"Every smart entrepreneur knows social media is the biggest opportunity--and the biggest risk--to every business. John David has nailed the techniques for making sure you get all the good, without the pain."
--Douglas A. Blackmon,winner of the Pulitzer Prize, former bureau chief and senior national correspondent for The Wall Street Journal, and author of Slavery by Another Name
— Reviews
Career Press, 9781632650641, 224pp.
Publication Date: October 24, 2016
About the Author
For more than 25 years, John P. David has counseled businesses and executives on strategic communications and marketing issues. He has developed a specialty in helping clients facing online attacks because, sadly, anyone can publish negative information online, seemingly without consequence. His strategic communications firm, David PR Group, counsels clients in the areas of marketing, reputation management, and public relations. He frequently writes about communications and strategy on the Huffington Post. You can follow him on Twitter @JohnPDavid