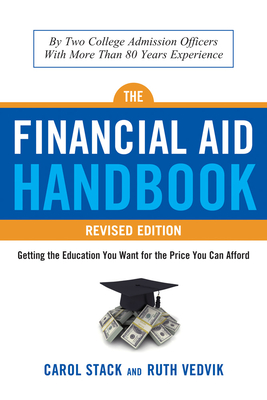 Financial Aid Handbook, Revised Edition (Paperback)
Getting the Education You Want for the Price You Can Afford
Career Press, 9781632650825, 256pp.
Publication Date: May 15, 2017
* Individual store prices may vary.
Description
The Financial Aid Handbook is the only book families need to find the right college at the right price.

This completely revised, up-to-date edition builds on the success of the original--the definitive, one-stop guide to the college selection and payment process, covering everything from basic timelines and tuition costs to predicting your scholarship award from colleges and taking ownership of student debt after graduation.

Updated to reflect the most recent changes in federal processes and timelines and including new chapters for undocumented and homeless students, this revised edition is a must-have for high school students and their parents.

The Financial Aid Handbook features straightforward language, engaging explanations, and hundreds of tips to maximize your financial aid--the scholarship funds that come from colleges themselves. No other book on the market teaches students and parents how to find real, four-year scholarships…and how to land them. It includes:


The nine biggest myths about paying for college.

A step-by-step guide to completing the FAFSA and PROFILE.

The ultimate guide to federal, state, and private student loans.

How to predict scholarship dollars with the Merit Aid Profile.

How to negotiate with the Financial Aid office.
About the Author

Carol Stack is the former director of admissions at Macalester College and Augsburg College, and served as a college counselor at both the International School of Brussels and St. John's International School in Waterloo, Belgium. For the past 20 years, Stack has worked as a principal at Hardwick Day, an enrollment consulting firm that works with the admissions and financial aid offices of colleges and universities. She has consulted on financial aid policy at dozens of colleges and universities from coast to coast. She lives in St. Paul, Minnesota.


Ruth Vedvik has held the position of director of admissions at the University of Illinois Urbana-Champaign, Ball State University, and Agnes Scott College. For the past 14 years, Vedvik has worked as a principal at Hardwick Day and served as interim vice president for enrollment at more than 20 colleges and universities. She lives in Champaign, Illinois.