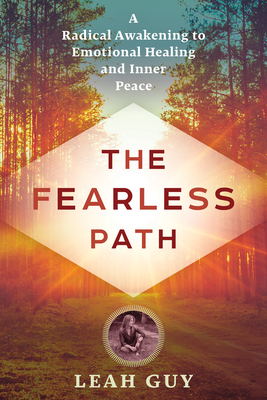 The Fearless Path (Paperback)
A Radical Awakening to Emotional Healing and Inner Peace
New Page Books, 9781632650870, 224pp.
Publication Date: May 15, 2017
* Individual store prices may vary.
Description
Leah Guy believes that disconnection is the root of all fear, and the attempt at letting go causes more problems than it solves. Debunking the myth of detachment and other popular New Age ideologies, she emphasizes that there's no escapism in emotional healing. Rather, the process is about putting the personal pieces of your heart, mind, and soul back together again. The Fearless Path offers a radical approach that will heal trauma, fear, heartache, and mental and physical health.

Overcoming anxiety, sexual abuse, eating disorders, and addiction using the principles in this book, Leah has spent her life helping others find relief and freedom from personal afflictions.

In The Fearless Path, you will learn:

Why "letting go" is the worst advice for healing, and how to really move on.

How to understand the stories your energy system tells about your mind, body, and spirit--and how to rewrite the script.

How to transform fear and anxiety into love and inner peace.

Why the law of attraction isn't all it's cracked up to be.

Find strength and serenity in the midst of a personal storm.
About the Author

Leah Guy is an intuitive transpersonal healer, spiritual teacher, professional speaker, and media personality. She offers wisdom from a lifetime of personal triumphs and more than 22 years helping clients transform their lives from fear and disconnection to heart-centered, soulful living. She is a sought-after inspirational speaker who has appeared on numerous television and radio shows on topics such as meditation, the mind-body connection, energy medicine, intuition, and addiction, as well as emotional and spiritual healing. Also known at The Modern Sage, she owns the Modern Sage Healing Center and product line, and A Girl Named Guy Productions, LLC. Leah lives in Jersey City, New Jersey. For more information, visit her online at ModernSage.com or across social media channels.

Praise For The Fearless Path: A Radical Awakening to Emotional Healing and Inner Peace…
"The Fearless Path is an inspirational guide for true self-healing through practical exercises and profound understandings. Leah's unique approach and insights into the true meaning of the chakras can help readers transform their lives in powerful, positive ways." --Susan Shumsky, DD, author of The Power of Chakras and Awaken Your Third Eye
— Susan Shumsky, DD
"The Fearless Path is an authentic guidebook for personal growth and transformation. Based on her own profound self-healing, Leah Guy offers a wellspring of inspiration and a cornucopia of practical tools. Highly recommended!" --Michael Gelb, author of How to Think Like Leonardo da Vinci
— Michael Gelb
"This book is quite simply a remarkable toolkit of proven strategies to address the root cause of cravings, addictions, anxiety, and guilt. The Fearless Path is a step-by-step plan for radical self-healing and inner peace, which will inspire and elevate as a standalone guide or in conjunction with other treatments. You will love this book!" --Ann Louise Gittleman, PhD, CNS, New York Times best-selling author of The New Fat Flush Plan
— Ann Louise Gittleman, PhD, CNS