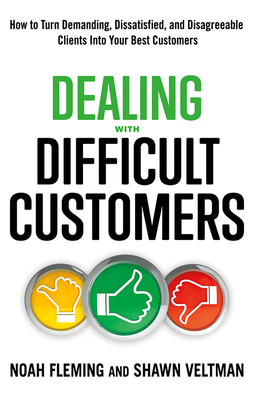 Dealing with Difficult Customers (Paperback)
How to Turn Demanding, Dissatisfied, and Disagreeable Clients Into Your Best Customers
Career Press, 9781632651174, 240pp.
Publication Date: November 20, 2017
Other Editions of This Title:
Compact Disc (1/30/2018)
MP3 CD (1/30/2018)
* Individual store prices may vary.
Description
Ignore a valid complaint and you could be the next viral sensation for all the wrong reasons. But give in to every demand and you may be consumed with the often petty complaints of your worst customers and wind up pandering to them with freebies, discounts, and special attention. That will cost you time and money, and perhaps worse, do little or nothing to solve the root problem.

Dealing with Difficult Customers will show you:

How to stop using gimmicks and trick promotions to encourage repeat business and the alternatives that will keep your customers salivating for more.

How "Hungry Hippos" and "Problem Children" are sapping your employees time and energy and what to do about them.

The behaviors that turn great customers into dissatisfied critics and how to change them.
About the Author

Since 2005, Noah Fleming has helped his clients discover the goldmine of profits hiding right inside their businesses. He is a sought-after business strategy consultant, high-impact speaker, and the author of Evergreen: Cultivate the Enduring Customer Loyalty that Keeps Your Business Thriving (AMACOM). His firm, Fleming Consulting & Co., is a trusted coaching and consulting source for thousands of business owners, executives, and individuals who want to dramatically grow their businesses. He is routinely quoted and mentioned on mainstream media outlets like the New York Times, Forbes, Reuters, and others. Fleming also writes a blog and publishes his weekly newsletter, The Tuesday Tidbit, for more than 22,000 subscribers. His website is noahfleming.com.


For the past 15 years, Shawn Veltman has worked alongside Noah Fleming to develop unique intellectual property, tools, and applications successfully implemented in hundreds of companies across dozens of industries. Veltman has been involved with companies ranging from Internet start-ups to medical device manufacturers, helping executives extract world-class performances from their sales and marketing teams.

Praise For Dealing with Difficult Customers: How to Turn Demanding, Dissatisfied, and Disagreeable Clients Into Your Best Customers…
"Dealing with Difficult Customers is a skill that the best companies in the world have. This exceptional book will show you how to develop it in yourself and your organization."
--Marshall Goldsmith, #1 New York Times best-selling author of Triggers and What Got You Here Won't Get You There

"These authors are experts on customer service and customer experience, having helped hundreds of companies of all sizes."
--Inc.