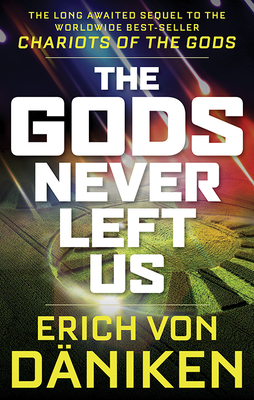 The Gods Never Left Us (Paperback)
The Long Awaited Sequel to the Worldwide Best-seller Chariots of the Gods
New Page Books, 9781632651198, 256pp.
Publication Date: November 20, 2017
Other Editions of This Title:
Compact Disc (11/20/2017)
* Individual store prices may vary.
Description
When Chariots of the Gods was published 50 years ago, it began a worldwide change in humanity's view of the cosmos. In an era of the military space race, Erich von Däniken boldly proclaimed that Earth had been visited by more advanced beings early in our history. But prescientific man had no concept of space ships, so he called their vehicles "chariots," and those driving the chariots became "gods."
Over the next five decades, von Däniken's more than 40 books built an ever-stronger case for Earth being visited by extraterrestrial visitors. And Chariots became an international best seller, with 30 million copies sold in more than two dozen languages. Also during that time, the case for ET visitations millennia ago was being reexamined by contemporary UFO researchers, who found evidence of modern visitations. And von Däniken expanded his perspective to encompass the present.
Now, he presents his long-awaited sequel to Chariots of the Gods, proclaiming that the gods never left us with all-new material to show that ancient aliens are still with us.
The Gods Never Left Us contends that recent advancements in biotechnology, astrophysics, engineering, and artificial intelligence not only give us a fresh perspective on his ancient astronaut theory but actually validates it. We are--as a race--embarking on the exact same trajectory of our own interplanetary colonization, just as von Däniken suggested Earth itself was colonized.
ETs are definitely at work today. And that affects all of us.
Why do they do what they do? What could an extraterrestrial species possibly gain from observing us in the same way we look at ants?
What have these strangers wanted for the past thousands of years?
Can't they leave us alone?
And what makes it so difficult for us to acknowledge the existence of these extraterrestrials?
That is what this book deals with.
"Erich's newest book is a fascination journey from the ancient past into the present with a plethora of scientific evidence and documented research. As always, he ads his own "to the point" take on it all. Readers may also like that his newest work moves in a slightly different direction from his past books. A thoroughly enlightening and enjoyable Read." --Bruce Cunningham, Director, Ancient Mysteries International LLC & Publisher of Advanced Archaeology Review magazine
About the Author
von Däniken
is arguably the most widely read and most copied nonfiction author in the world. He published his first (and best known) book,
Chariots of the Gods,
in 1968. The worldwide bestseller was followed by 40 more books, including the recent bestsellers
The Gods Never Left Us, Eyewitness to the Gods, Twilight of the Gods, History Is Wrong, Evidence of the Gods, Remnants of the Gods,
and
Odyssey of the Gods.
His works have been translated into 28 languages and have sold more than 65 million copies. Several have also been made into films.
Von Däniken's ideas have been the inspiration for a wide range of television series, including the History channel's hit Ancient Aliens. His research organization, the A.A.S.R.A./legendarytimes.com (Archaeology, Astronautics & SETI Research Association), comprises laymen and academics from all walks of life. Internationally, there are about 10,000. members. He lives in Switzerland but is an ever-present figure on the international lecture circuit, traveling more than 100,000 miles a year.
Praise For The Gods Never Left Us: The Long Awaited Sequel to the Worldwide Best-seller Chariots of the Gods…
"Chariots of the Gods is a pivotal book, first published at an important point in human consciousness and awareness, a time when minds were opening. That book changed many's and my own worldview. Erich von Däniken has again touched the pulse of humanity at another crucial moment, in discussing the now known 'fact' that The Gods Never Left Us." --Colin Andrews, author of On the Edge of Reality
— Reviews

"Erich's newest book is a fascination journey from the ancient past into the present with a plethora of scientific evidence and documented research. As always, he ads his own "to the point" take on it all. Readers may also like that his newest work moves in a slightly different direction from his past books. A thoroughly enlightening and enjoyable Read." --Bruce Cunningham, Director, Ancient Mysteries International LLC & Publisher of Advanced Archaeology Review magazine
— Reviews