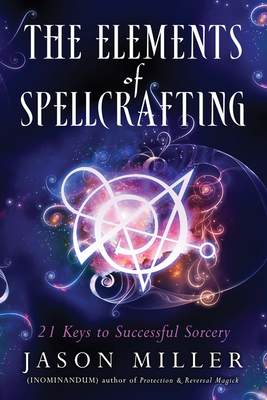 The Elements of Spellcrafting
21 Keys to Successful Sorcery
Paperback

* Individual store prices may vary.
Description
There is no shortage of spells out there. Some books highlight thousands of spells, but do any of them actually work? And how well do they work? I don't mean just getting a result--I mean getting a result that matters, a result that will impact your life or the lives of those you work for. The Elements of Spellcrafting provides the most effective and efficient ways to get things done with magic.

The Elements of Spellcrafting identifies and explains 21 keys to successful sorcery--a best practices of sorcery--in three sections:


Principals and strategies for how best to apply magic before you begin.

Methods and tactics that will ensure a positive outcome.

How to take spells to the next level--building a life of spiritual accomplishment and material success beyond the basics.

If you have ever cast a spell that didn't work, The Elements of Spellcrafting will help you figure out why.

If you regularly cast spells that seem to work but you still wind up in the same circumstances, this book will definitely help you chart a new course for victorious spellcrafting.
Praise For The Elements of Spellcrafting: 21 Keys to Successful Sorcery…
"Poignant and precise, well-articulated and presented with steady pace; Jason Miller once again delivers a magical manual for modern practioners who want to go deeper and get more out of their witchcraft. Full of newly developed material, wit, and a confident tone, The Elements of Spellcrafting is a new take on advanced witchcraft and spellcraft that will expand your practice and point you in the direction of power and success. This is not a book I would lend out, you will never see it again!" --Devin Hunter, author of Witch's Book of Power and Witch's Book of Spirit
— Reviews

"This is one of those books of magic, far too rare, that make me want to stand up and applaud. Miller is not one for airy theorization. He's a practical magician and he keeps his sorcerous tires firmly on the pavement, as he lays out the common misconceptions and errors that magicians make, and best of all, the beneficial techniques that magicians often have to stumble onto themselves. Those new to magical practice will find this book a handy inoculation against nonsense and a guide through thickets of time-wasting foolishness. Those old hands at magic will find themselves thinking 'oh, so that's why that didn't work--of course!' It's a time saver and a breath of fresh air, clearing away the clouds of incense, all with humor, humility, and frank clarity. This is a book that makes you want to do magic." --Patrick Dunn, author of Magic, Power, Language, Symbol and The Practical Art of Divine Magic
— Reviews

"Sage, salt of the earth instruction for witches and occultists at all levels. Don't be afraid to ask for more than you deserve and now with this book, you'll have a plan rooted in witchcraft as well as practicality to achieve it!" --Deborah Castellano, author of Glamour Magic
— Reviews

"In The Elements of Spellcrafting, Jason Miller shares his knowledge, experience, and insights with us and he does it with grace, good humour, and practical common sense. This book will be of interest to anyone interested in the magical arts or wishing to become a better spellcaster." --JJudika Illes, author of The Element Encyclopedia of 5000 Spells and other books devoted to spirituality and the magical arts.
— Reviews
New Page Books, 9781632651204, 224pp.
Publication Date: February 19, 2018
About the Author

Jason Miller (Inominandum) has devoted the last 23 years to traveling the globe and studying practical magic in its many forms. He is the author of Protection and Reversal Magick, The Sorcerer's Secrets, and Financial Sorcery. He also runs the Strategic Sorcery Training Course and Strategic Sorcery Blog. He lives with his wife and children in the New Jersey Pine Barrens, where he practices and teaches magic. His popular blog can be found at www.inominandum.com/blog.