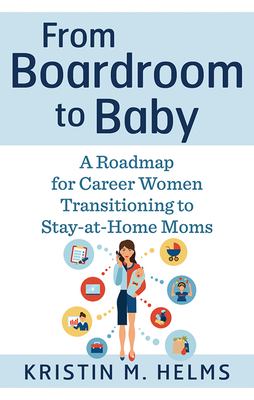 From Boardroom to Baby
A Roadmap for Career Women Transitioning to Stay-at-Home Moms
Paperback

* Individual store prices may vary.
Description
From Boardroom to Baby provides emotional encouragement and practical guidance for career women who are opting out of the workforce to stay home with their children.

A recent Gallup poll concluded that stay-at-home moms were significantly less likely than working moms to consider their lives "thriving" and experienced higher rates of depression. Even so, millions of mothers are choosing to put their careers on hold and stay home with their children.

From Boardroom to Baby shatters the stereotypes associated with "staying home" and empowers new moms to blaze their own unique paths through motherhood and beyond.

Along with a thoughtful map and modern-day tools to help moms carve out meaning and purpose in their new roles, From Boardroom to Baby offers:


Heartfelt stories of the author's own journey from a Fortune 500 company to life on the home front.

Mindful exercises that prompt soul searching and self-discovery.

Expert advice from a mental health counselor.

Meaningful affirmations that promote grace and strength throughout motherhood.
Praise For From Boardroom to Baby: A Roadmap for Career Women Transitioning to Stay-at-Home Moms…
"Kristin Helms writes a brilliant depiction of the guilty struggle moms experience when making the transition from the hustle of the career world to the hustle of the domestic world of motherhood. From being in a world filled with external recognition to being immersed in a world of internal validation and contentment with one's own self is a skill. Learning how to thrive and find value, happiness, contentment, and peace with being a mother while your children are young is eloquently outlined in this book that every career driven stay at home mom should read!"
— Dr. Kim Van Dusen, LMFT, RPT, Owner/Founder of The Parentologist with Dr. Kim

"If you're struggling with making sense of maternity because it doesn't live up to your imagination, this is the book for you. Kristin Helms reflects on her journey through early motherhood with honesty and humor as she guides you to examine new choices and create your own path. From new relationships to old expectations, she invites you to set intentions and appreciate where you are."
— Heather Flett, author of The Rookie Mom's Handbook

"When we transition from working full time outside of the home to working full time inside the home, it can be quite the adjustment! Kristin Helms knows that transition and has spent her motherhood years, not only seeking balance and joy for herself, but gaining great insights for all moms making the transition from career to home. From Boardroom to Baby is a great way to reflect on the impact we have as moms and the fulfillment we have to gain in this season of life."
— Jaimi Erickson, owner and writer at The Stay-at-Home Mom Survival Guide
Career Press, 9781632651259, 240pp.
Publication Date: January 22, 2018
About the Author
Kristin M. Helms is the founder and editor-in-chief of Tribe Magazine, an online publication that reaches moms from all over the world and explores the heart and soul of motherhood. She has been published on parenting sites including Literary Mama, Big City Moms, Pregnant Chicken, and HuffPost. When her daughter was born in 2013, Helms traded her power suits and office with a view for yoga pants and life on the home front. She lives in San Diego, California, with her husband and two spirited toddlers.
or
Not Currently Available for Direct Purchase