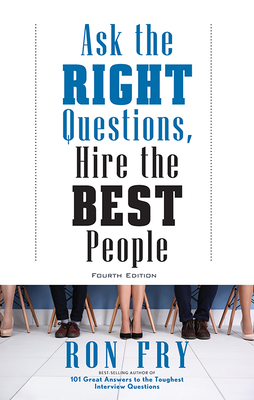 Ask the Right Questions, Hire the Best People, Fourth Edition (Paperback)
Career Press, 9781632651303, 224pp.
Publication Date: March 19, 2018
* Individual store prices may vary.
Description
In this completely updated new edition, the best-selling author of 101 Great Answers to the Toughest Interview Questions and 101 Smart Questions to Ask on Your Interview takes you step-by-step through the hiring process. Whether you're replacing an employee who's leaving or creating a new position in your organization, Ron Fry shows you how to write a concise and accurate job description, identify key competencies, and how to translate them into a realistic set of search criteria.

Ask the Right Questions, Hire the Best People also shows you:

How to attract the best applicants.

What to look for when you're screening resumes, in your office or online.

What questions you should ask in the interview...and when to ask them.

How to listen more effectively to what the applicant is really telling you.

How to probe for information the applicant doesn't want to reveal.

What questions the law permits and forbids.

Whether you're an interviewing novice or a seasoned pro, you'll find all the answers you need in Ask the Right Questions, Hire the Best People, including new chapters on questions for managers and executives, identifying core competencies, and unearthing hidden objections.
About the Author

Ron Fry is a nationally known proponent for the improvement of public education and an advocate for parents and students, playing an active role in strengthening personal education programs. In addition to being the author of the best-selling How to Study series, which has sold more than 3,000,000 copies to date, Fry has written more than 30 other books in the areas of education and careers. He is the founder and president of Career Press, an internationally known independent publisher of trade nonfiction books.