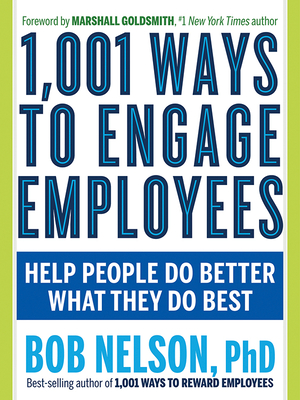 1,001 Ways to Engage Employees (Paperback)
Help People Do Better What They Do Best
Career Press, 9781632651372, 288pp.
Publication Date: July 23, 2018
* Individual store prices may vary.
Description
"[S]hare these ideas with key members of your company. Together, select a half-dozen ideas that resonate with all of you. Next, devise a plan to systematically implement these. And watch your company grow both in profitability and as a great place to work." —Inc.com
Employee engagement has been consistently cited as a top and growing priority by CEOs, managers, and human resources leaders across the country. This new title from bestselling author Dr. Bob Nelson will help move any organization from just measuring the need to engage employees to actually changing management behaviors that will lead to a stronger culture of engagement. Your organization will become more effective at both attracting and retaining talent and maximizing the contribution of your employees.
1,001 Ways to Engage Employees:
Categorizes specific research-based factors proven to impact employee engagement.
Cites hundreds of examples of what other companies are doing to enhance employee engagement—ideas you can use right now.
Offers practical insights and advice from hundreds of clients Dr. Bob has worked with.\
Highlights the key research on employee engagement you need to know and use.
Is the only resource on the market that guarantees behavioral change on the part of your leaders that will deliver desired results.
Employees are your company's most important asset. Attracting the best, getting them to do their best work, and keeping them in the organization are critical to your company's success. 1,001 Ways to Engage Employees gives you all the powerful tools you need.
About the Author

Dr. Bob Nelson is a leading authority on the topics of employee engagement, motivation, recognition, and retention. His many books have sold more than 5,000,000 copies and have been translated into 20 languages. He has spent his career researching best practices and helping managers and organizations implement strategies and practices to enhance the employee experience and achieve greater results for both the organization and employees. He frequently presents for corporations, conferences, and associations across the country and around the world and has been featured in national media such as the New York Times, the Wall Street Journal, and CBS 60 Minutes. He lives in San Diego, California.

Praise For 1,001 Ways to Engage Employees: Help People Do Better What They Do Best…
"I've known and have respected Dr. Bob and his work for years and was especially delighted that he has focused his attention on a topic of critical importance to businesses of all types and sizes: Employee Engagement. I believe anyone who got his new book, 1,001 Ways to Engage Employees, would benefit immensely from the practical, positive, real-life examples he shares on the researched-based themes that most impact employees to be their best at work. Get a copy for yourself and another for your manager!" --Kevin Sheridan, New York Times bestselling author, Building a Magnetic Culture and The Virtual Manager

"Dr. Bob Nelson has done it again! His 1,001 Ways to Engage Employees is a must read for anyone who managers people. In fact, it is a must read for anyone who works with people! Hundreds of effective, practical, and inexpensive ideas to engage and motivate employees told in Dr. Bob's fun and pragmatic writing style. Loved it!" --Bob Kelleher, CEO, The Employee Engagement Group, author, Louder Than Words and I-Engage

"Having truly engaged employees has been an essential element of our company's success. We've used Dr. Bob to help our leaders on this topic and his book, 1,001 Ways to Engage Employees, explicitly shows ways any manager can better engage those they work with through their daily behaviors and actions. I highly recommend this book to managers everywhere!" --Garry Ridge, President & CEO, WD-40 Company