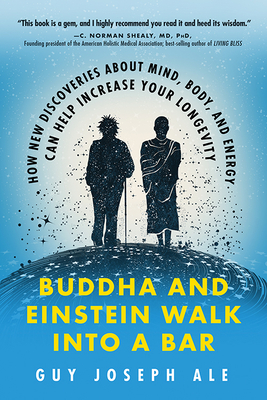 Buddha and Einstein Walk Into a Bar
How New Discoveries About Mind, Body, and Energy Can Help Increase Your Longevity
Paperback

* Individual store prices may vary.
Other Editions of This Title:
Digital Audiobook (4/15/2018)
MP3 CD (4/16/2018)
Compact Disc (4/16/2018)
Compact Disc (4/16/2018)
Description
Buddha and Einstein Walk Into a Bar presents the revolutionary idea that sensing how long we can live is a latent capacity in us, currently unknown, just like the introduction of fire, the invention of flying, and the discovery of radio waves were before we "discovered" them. Understand how the knowledge of transcendence, consciousness, and self-healing are integral to your well-being.

You could drive a car without a fuel gauge, but knowing how much gas you have clearly gives you more control of your vehicle. Using the latest breakthroughs in cosmology, neuroplasticity, superstring theory, and epigenetics, Buddha and Einstein Walk Into a Bar helps you to master your entire system of mind, body, and energy and provides practical tools to help you live your longest and healthiest life.

You will learn Lifespan Seminar's multiple-award-winning tools of:

Exercises that align the different systems of the body.

Mindfulness and meditation--to relieve daily stress.

Good nutrition--simple rules sustainable for a lifetime.

Proper rest--for your mental and physical peak performance.

Active lifestyle--to stay vibrant through your entire life.
Praise For Buddha and Einstein Walk Into a Bar: How New Discoveries About Mind, Body, and Energy Can Help Increase Your Longevity…
"I've known Guy as a dynamic, charismatic and savvy presenter; now I know him as a clear and persuasive writer. His style is fresh, light, and bright. This book's positive outlook, clarity, and attention to detail will undoubtedly place it at the top of many a reading list."
— Prof. Erantha de Mel, PhD; author of Optimizing the Infinite Mind

"Guy's book is so unique, that after 40 years of practice as a psychotherapist I have put his ideas into practice, which have brought amazing results. This book will bring great insight to all who will read it and put these words and actions of wisdom into practice."
— Dr. Hans Vischjager, Director of BEHA Institute for Psychological Studies

"This book immediately captured my interest and enlightened me to the many possibilities of mankind, the impossible is possible! It is very refreshing and unique in its approach. I am sure the ICPT [International Council of Professional Therapists] would find it as interesting and as educational as I have."
— Helen Pourouna, ICPT Director of Operations; Editor of ICPT Magazine

"There are many roads to Rome and to Health. This book is one of the best I have read. It is a gem and I highly recommend you read it and heed its wisdom."
— C. Norman Shealy, MD, PhD, Founding President, American Holistic Medical Association

"Buddha and Einstein Walk Into a Bar sounds like the start of a joke and Guy admits this right up front. But this is a serious book that ties modern science with deep philosophy. It talks about dark matter and string theory and quantum mechanics and also about how neuroplasticity makes it possible for our brains to be constantly evolving and adapting. Even better, Guy shows you how to consciously channel that adapting so that each day you are more able to achieve what you would like to while also ridding yourself of the tension that is so much a part of our lives."
— Srikumar Rao, PhD, Columbia Business School professor (ret.); author of Happiness at Work

"If you desire to create your best life, this book is for you! Guy Joseph Ale gives you the tools you need to create a healthy body and a healthy mind at any age or stage in your life. I highly recommend this book for ultimate life success."
— Lori L. Shemek, PhD, The Huffington Post's Top Diet and Nutrition Expert; Bestselling author of Fire Up Your Fat Burn

"This book is unique in many ways. It can be read, understood and used by everyone, independent of age, education level or nationality. It combines experience-based and research-based insights and knowledge with practical applications in daily life. As a book should be evaluated in relation to long-term and lasting positive effects, I am quite sure that this book will rate highly by many people around the world and during many years to come."
— Lars-Eric Unestahl, Ph.D., President of Scandinavian International University and and Founder of "Integrated Mental Training"

"Buddha and Einstein Walk Into a Bar will help you live better, longer, and with greater mastery of your mind and your body. It provides invaluable insights into the workings of the brain along with practical wellness tools. I recommend it to anyone wanting to create more balance in their life."
— Dr. Ivan Misner, Founder of BNI (Business Network International) and New York Times best-selling author

"This book gives us a deeper understanding of our innate energy force and shows us the power of our mind, body and spirit connections. Guy Joseph Ale shares his explorations of our developing scientific and spiritual foundations for a greater awareness of our world, our universe, and ourselves."
— Sheryl Glick, Host of Healing From Within show; author of The Living Spirit

"There are many roads to Rome and to health. This book is one of the best I have read. It is a gem, and I highly recommend you read it and heed its wisdom."
— C. Norman Shealy, MD, PhD, founding president, American Holistic Medical Association
New Page Books, 9781632651402, 224pp.
Publication Date: June 15, 2018
About the Author
Guy Joseph Ale was the founding president of Lifespan Seminar and vice president of Asia Pacific Association of Psychology. Ale was an internationally renowned pioneer in the field of human lifespan. Since 1992, his primary research had been the scientific, spiritual, behavioral, and evolutionary aspects of the awareness that we can sense how long we can live and the practical applications of this insight in daily circumstances. Ale received the Eminent in Psychological Science Award at the International Conference on Psychology 2011 "in recognition of invaluable contributions in the field of human lifespan." Ale lectured and conducted workshops in the United States, Europe, and Asia. He passed away in 2018. For more information, visit https://guy-ale-buddha-and-einstein.com/.