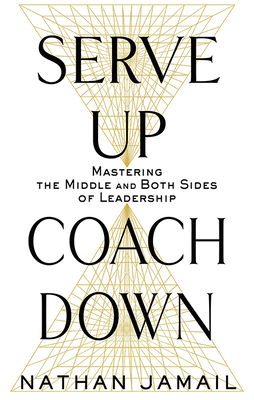 Serve Up, Coach Down (Hardcover)
Mastering the Middle and Both Sides of Leadership
Career Press, 9781632651495, 240pp.
Publication Date: October 1, 2018
Other Editions of This Title:
Pre-Recorded Audio Player (10/1/2018)
MP3 CD (10/1/2018)
Compact Disc (10/1/2018)
* Individual store prices may vary.
Description
Shows leaders in the middle just how powerful they are without pretending that leading employees and reporting to bosses don't require different skills. It fills the gap between the books those leaders read and the information they actually need and answers the big questions that constantly confound leaders and their companies:

Why do leaders who care about their teams still struggle to gain their boss's approval?
Why do those same leaders who feel they serve their teams have so much difficulty getting teams to step it up and go beyond the basic requirements of their jobs?
Why do leaders have issues getting other divisions in the organization to do more, so that their teams don't have to do more than their share?
The answer: Leaders in the middle too often serve down to their people and defend up to their bosses, instead of serving up to their bosses and coaching down to their employees.
This is why so many companies struggle to innovate and get stuck--leaving everyone frustrated and looking for answers. Serve Up, Coach Down changes all that. Great leaders don't feed their people fish; they coach them on how to fish for themselves and then beat the competition by catching more fish. Those people in return serve their leaders and the people those leaders report to by delivering maximum performance for the organization. Achieving that performance, however, requires leaders in the middle to focus, have confidence, and commit to changing their mindsets.
About the Author

Nathan Jamail doesn't just write about leadership, he has lived it, in a 25-year career spent in sales management and coaching top-performing teams. After fifteen years in corporate America he created and built a mortgage company, a group of dry cleaners, and a series of children's art studios before starting his speaking and consulting firm, Jamail Development Group, which helps leaders and organizations in all industries and has been recognized by Leadership Excellence as a top development company in the nation. Jamail has led seminars and workshops at more than 60 companies including Cisco, FedEx, State Farm, T-Rowe Price, The Hartford, Comcast, Microsoft, the US Army Reserve, Georgia Pacific, Capital One Finance, and US Healthworks. He is the author of four bestselling business books, and his articles on leadership and selling skills have appeared in the Commercial Appeal, the Drake Business Review, Small Business Opportunities, Canadian Manager Magazine, and Home Business Magazine.

Praise For Serve Up, Coach Down: Mastering the Middle and Both Sides of Leadership…
"Nathan has done it again! Serve Up and Coach Down clearly outlines what all leaders should be doing regardless of their position. The real examples coupled with the specific actions to take, make these concepts easy to implement. The Sales Leaders Playbook is required reading for my Directors and since implementing those ideas, I have seen a significant improvement in our results. This is another of Nathan's books that will be required reading for all my Directors, and I expect us to reach another level with these insights!" --Darren Howden, Senior Vice President, Prairie Operations, Farm Credit Canada
— Reviews

"This book is a great tool for anyone in management, at any stage of their career, to learn how to achieve success & fulfilment with a fresh perspective on 360 degrees workplace relationships with their the boss, employees, peers and customers. The simple situational examples and recommendations offered clear explanations and strategies for managers to follow for improved relationships and performance in their careers. As a sales leader for over 25 years in a service industry, I almost felt as though your examples and recommendations came right from the realities from best practices in my business and career. Thanks for SERVING this book for me & others to read!" --Ken Bisnoff, Founding Executive, TPx Communications
— Reviews

"Nathan did it it again. This is a great book with awesome concepts for leaders to think about; especially how to effectively serve up and stop protecting down. I would highly recommend this book to any leader or organization looking to strengthen their culture and team!" --Tim McFadden, Former CEO of State Farm Indemnity and Florida Fire Companies
— Reviews

"If you lead people and answer to someone, this book is for you. Become more of the leader your boss and team respects! You will learn how to own the power that comes with that position. You will understand why 'defending your people' is the easiest and worse mistake for them, you, and your organization. This book will teach you about what servant leadership should mean, serving up to the boss and serving out to peers and down by coaching. This true mindset shift will empower and hold the entire team accountable to exceed the wildest goals; often requiring difficult choices and doing things differently. You will understand and communicate your company's belief, enabling quick, nimble, all hands on deck actions, breaking down silos, creating the right habits through this new definition of servant leadership with a new mindset and intent! This book provides the practical training how to accomplish transparency, accountability, and serving up, across/out, and down the most powerful ways that result in constant execution!" --Mike Leathers, President, TPG Pressure Pipe Group
— Reviews

"Nathan Jamail does it again by providing a practical yet insightful and fresh way to approach leadership. The idea of serving up and coaching down truly puts you (and me) in a position of greater influence and power within our organizations. I've already tasked my team to allow their teams to 'run', and coach them to excellence. Nathan's methods can and should be applied to all business practices…large, small, private, public or non-profit." --Michael Mabry, President, Mooyah Burgers Fries & Shakes
— Reviews

"The essential quality of Nathan's writing is the degree to which he translates the theoretical to the practical. Serve Up, Coach Down clears the mental clutter of the limitations we impose upon ourselves and gives us the freedom to be fully engaged. Nathan Jamail is the real deal! This is a must read for all leaders in business today" --Steve Baldwin, Vice President - Sales and Originations, Capital One Auto Finance
— Reviews

"This book is a great tool for anyone in management, at any stage of their career, to learn how to achieve success & fulfilment with a fresh perspective on 360 degrees workplace relationships with their the boss, employees, peers and customers. The simple situational examples and recommendations offered clear explanations and strategies for managers to follow for improved relationships and performance in their careers. As a sales leader for over 25 years in a service industry, I almost felt as though your examples and recommendations came right from the realities from best practices in my business and career. Thanks for SERVING this book for me & others to read!" --Ken Bisnoff, Founding Executive, TPx Communications
— Reviews

"Leadership is tough, and arguably middle management, as Serve Up & Coach Down implies, is a critically important management cohort. Nathan does a great job illustrating that leaders today must feel empowered, passionate and unafraid to take the lead and commit; they must give their teams the oxygen to grow and come together as a cohesive unit; and that serving up is driving the right answers and productivity to our key decision makers and that coaching down is helping show and lead the way. Serving up and coaching down, within the unique style of you as a manager and leader, is a key way for organizations to drive productivity and team-driven environments." --Steve Fox, Sr. Director, Technical Capabilities, Microsoft
— Reviews

"Middle management often gets a bad rap and is often referred to as business purgatory. Nathan's book helps take the stigma out of middle management by finding creative ways to unleash the power that comes with the position. If you're a manager looking to take the next step, this book's for you!" --Jeffery Hayzlett, Primetime TV & Radio Host, Speaker, Part-Time Cowboy, and author, Think Big, Act Bigger
— Reviews

"Nathan's serve up & coach down principles kicks down the doors on the conventional wisdom of servant leadership. Nathan not only shows the value of being a servant to those you follow and a great coach to those you lead. He shows the true power of the Leader in the middle. This is a must read for any leader in business today!" --Steve Peters, President, 20/20 Communications
— Reviews