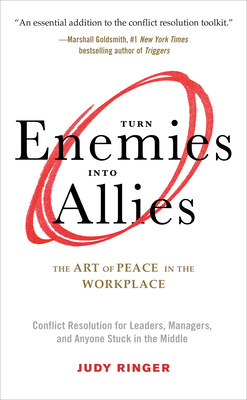 Turn Enemies Into Allies
The Art of Peace in the Workplace (Conflict Resolution for Leaders, Managers, and Anyone Stuck in the Middle)
Paperback

* Individual store prices may vary.
Other Editions of This Title:
Digital Audiobook (4/30/2019)
Compact Disc (5/1/2019)
MP3 CD (5/1/2019)
Description
"An essential addition to the conflict resolution toolkit." —Marshall Goldsmith, #1 New York Times bestselling author of Triggers
In today's workplace, managers, leaders, and HR professionals often believe they don't have the time to help employees navigate conflict. More often than not, however, it takes more time not to address conflict than to constructively intervene. But before you can successfully guide others in managing disagreements, you must be able to manage yourself--your mindset, presence, and behaviors.
Turn Enemies into Allies offers a way of working with clashing employees that is deliberate and systematic--one that draws on the author's expertise in conflict and communication skill-building and a decades-long practice in mind-body principles from the martial art aikido.
Following the author's step-by-step guide, you will:
Acquire the skill and confidence to coach conflicting employees back to a professional, effective working relationship, while simultaneously changing their lives for the better.
Restore control and peace of mind to the workplace.
Increase your leadership presence.
Praise For Turn Enemies Into Allies: The Art of Peace in the Workplace (Conflict Resolution for Leaders, Managers, and Anyone Stuck in the Middle)…
"Ringer's blend of conflict resolution approaches with aikido practices enriches and deepens our understanding of human interaction. I see things I've been teaching for decades in a new light, and am grateful for the wisdom she so generously shares." --Sheila Heen, Co-author of Difficult Conversations and Thanks for the Feedback
— Sheila Heen

"Every workplace sees conflict from time to time. How you handle it, what you do with it, is what counts. Judy Ringer has a unique approach to conflict resolution, stemming from her experience as an expert in the martial art of aikido. In this book, you'll find clear-cut advice on how to handle workplace conflict from a place of positive energy." --Daniel H. Pink, author of To Sell is Human and Drive
— Daniel H. Pink

"An essential addition to the conflict resolution toolkit." --Marshall Goldsmith, #1 New York Times bestselling author of Triggers
— Marshall Goldsmith

"Judy is a master at helping people to transform conflict into powerful relationships. Her very useful guide will provide the tools to change intractable situations into high-level teamwork and unimaginable possibilities. Let Judy teach you to dance on the ever- shifting carpet of relationships." --Thomas Crum, author of Three Deep Breaths, Journey to Center, and The Magic of Conflict
— Thomas Crum

"When two people don't get along, you can't just put them into a room and hope for the best, or assign them to a project and insist they work together. All relationships have some conflict, and some relationships are subject to deep conflicts. Addressing destructive behavior related to conflict is important. And addressing conflict when it happens, in a way that builds connection, collegiality, and allows individuals to share vulnerabilities takes time and nurturing. Judy Ringer has a way of working with individuals in conflict so that the relationship (assuming all parties want this) becomes healthy. That said, we need conflict! But we don't need destructive behavior that sometimes accompanies conflict. Anyone in business can tell you that individuals with healthy relationships, even in the midst of conflict, create a highly productive and psychologically safe environment at work, when they know how to work through the conflict appropriately. Judy's work provides solid recommendations, practical advice, and methods to address conflict--the book provides great insights to help rid organizations of behavior and approaches that can harm or destroy relationships." --Connie Roy-Czyzowski, SPHR, SHRM-SCP, CCP, Vice President Human Resources, Northeast Delta Dental
— Connie Roy-Czyzowski

"Workplaces are designed for conflict. They bring together competing interests of customers, designers, marketers, engineers, manufacturers and budgets. This book provides practical and easily implemented ways to allow these conflicts to be productive and relationship building. I highly recommend the book and hope that its insights leak into the larger arena of our civic and political dialogue. In the end, our way of life may depend on our capacity to trust and cooperate with strangers. The ideas in this book take us in that direction." --Peter Block, author of Flawless Consulting, Stewardship, and Community
— Peter Block

"This brilliant book has a wealth of material-insights, processes and practices for anyone who is engaged in coaching people who don't get along. Judy offers powerful tools using concepts and principles taken from the martial art of aikido. Drawing from her experience on the aikido mat and as a coach in organizations she has laid out the coaching process in clear, concise and accessible steps that will help anyone move from conflict towards resolution. I appreciate that her intention is to go beyond organizational coaching, she is also emphasizing, "… teaching skills that will support the parties ever after in all areas of life." A great contribution." --Wendy Palmer, author of Leadership Embodiment
— Wendy Palmer

"Judy Ringer's book is for leaders who want to empower themselves to manage workplace conflict. Imagine being fearless when conflict arises, and having the tools and confidence you need to address, manage, and guide your team toward peace and organizational health." --Fran Liautaud, Organizational Development & Training Manager
— Fran Liautaud

"Turn Enemies Into Allies by Judy Ringer is a powerful guide to proactively deal with conflict in the workplace. There is a definite "cost" to avoiding conflict, which will be reduced by following the sage advice offered by Judy Ringer. She skillfully takes the reader through concrete steps and offers exceptional examples from her years of experience. As a management consultant and Professor, I found myself reflecting on situations in my life and thought if I had this book, the conflict would have been resolved much quicker and with less drama for all parties involved. Turn Enemies Into Allies is truly a gift to new and seasoned managers!" --Susan Losapio, PhD, Professor Southern New Hampshire University School of Business
— Susan Losapio, PhD

"Resolving conflict is never easy. The good news is it doesn't have to be this way. Turn Enemies Into Allies is a simple and effective field guide. This book offers a better way of working with clashing employees that is deliberate and systematic." - HR Professionals Magazine
— HR Professionals Magazine

"In a time when conflict potential seems to be on the rise in all aspects of our life, this is a practical guide to redirecting negative conflict energies into a positive and harmonious outcome." - Get Abstract
— Get Abstract

"Ringer brings to the book years of experience in mediating and resolving workplace disputes through communication skill–building… Her real skill is in emphasizing the power of transparent, effective communication to resolve unhelpful, wasteful conflicts." – Publishers Weekly
— Publishers Weekly
Career Press, 9781632651549, 224pp.
Publication Date: May 1, 2019
About the Author

Judy Ringer is the founder of Power & Presence Training, and the author of Unlikely Teachers. An international speaker, coach, and seminar leader, and third-degree black belt in aikido, Judy brings to life essential conflict skills such as self-management under pressure and appreciation of other viewpoints. Clients include the National Institutes of Health, the Chicago Federal Executive Board, GE, Sony Corp., Honda, and Frito-Lay. Judy was born and raised in the Chicago area and now lives in Portsmouth, New Hampshire.