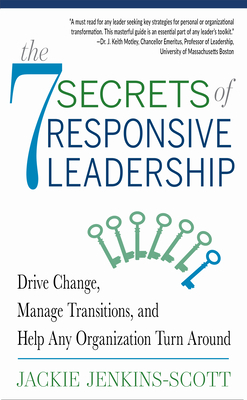 The 7 Secrets of Responsive Leadership (Paperback)
Drive Change, Manage Transitions, and Help Any Organization Turn Around
Career Press, 9781632651594, 240pp.
Publication Date: February 1, 2020
Other Editions of This Title:
MP3 CD (2/1/2020)
Compact Disc (2/1/2020)
* Individual store prices may vary.
Description
Leadership and turnaround expert Jackie Jenkins-Scott shows you how to spot and take advantage of opportunities in any environment.
Being a responsive leader means playing to win. Responsive leadership can thrive anywhere, unlike systematic leadership. The latter imposes methods and laws; principles govern action. In contrast, responsive leadership is a living, changing set of traits and skills that adapts to new people and environments. You may have an impressive grasp of how to influence, inspire, and build teams, but you must know how to adapt your abilities to each new organization, or to changes within the organization—new board members, new staff members, new shareholders.
The 7 Secrets of Responsive Leadership spotlights how to build the skills to be a leader in any environment. Richly illustrated with stories from the author's decades of experience as a CEO, the book explores how to:
Take advantage of opportunity
Turn around an organization
Compete well by leading with heart
Keep your bags packed
Echo one message at a time
Look for opposition
Value the interconnectedness of people
Recover quickly
At its core, this book is about the intimate relationship between leadership and opportunity. The author lived that relationship in transforming a major urban health care center and a college from struggling and failing organizations to thriving, international leaders in their field.
About the Author
Jackie Jenkins-Scott is a nationally recognized leader with more than three decades of experience in senior and executive leadership positions in public health and higher education. She is widely recognized as a transformational leader, helping individuals and institutions achieve high performance and strategic results.
Praise For The 7 Secrets of Responsive Leadership: Drive Change, Manage Transitions, and Help Any Organization Turn Around…
"With strategic savvy, a big heart, and the wisdom of deep experience, Jackie Jenkins-Scott guides readers through major leadership moments, from choosing the right job to knowing when it's time to leave—and coping with crises in between. Her seven secrets should be widely used to boost any organization's performance." —Rosabeth Moss Kanter, Harvard Business School Professor, and bestselling author of Confidence and Think Outside the Building
— Rosabeth Moss Kanter
"It was an honor to follow in the footsteps Jackie's leadership at Dimock. The lessons in The 7 Secrets of Responsive Leadership remain a part of Dimock today and deeply resonate with me as they will for so many other leaders to come." - Mycheia Minter-Jordan, MD, MBA, President and CEO, Dimock Center
— Mycheia Minter-Jordan, MD, MBA
"I've known Jackie for many years and she has always been a force of nature, enacting positive transformation within two of Boston's key health and educational institutions with her powerful brand of leadership. She has translated all of her experiences and knowledge about what it takes to be a truly effective leader into the pages that you hold before you, and I have no doubt that this, too, will be a tremendous success." - Suffolk County Sheriff Steven W. Tompkins
— Steven W. Tompkins
"7 Secrets to Responsive Leadership is a multi-purpose book that informs and inspires. It is for you, no matter who you are or why you are … you will find the secrets in this book helpful for your distinctive endeavors to make the world a better place. This will help you transform assertion to demonstration of Responsive leadership for lasting impact and legacy." - Dana H. Born, PhD, (Brigadier General, USAF Ret.), Co-Director, Center for Public Leadership (CPL), Harvard Kennedy School of Government
— Dana H. Born, PhD
"7 Secrets to Responsive Leadership belongs on any leader's bookshelf, particularly those who understand the role of heart over head in motivating an organization. Jackie Jenkins-Scott has produced a highly-readable, pragmatic, and emotionally intelligent book on a full range of leadership challenges and behaviors. The '7 Secrets' are validated by multiple anecdotes from her own extensive leadership experience, and peppered with real-world examples familiar to all of us." - Bink Garrison, President of Bink, Inc 
— Bink Garrison
"Jackie Jenkins Scott 's The 7 Secrets of Responsive Leadership is a must read for any Leader seeking key strategies for personal or organizational transformation. President Jenkins -Scott reminds us, as she takes readers on a journey through personal and a cadre of leaders  experiences, of our responsibility as human beings to prepare as diligently as possible for a lifetime of contributions destined  to have global impact. This Masterful Leadership Guide is an essential part of any Leaders Toolkit."- Dr. J. Keith Motley, Chancellor Emeritus, Professor  of Leadership, University of Massachusetts Boston
— Dr. J. Keith Motley
"Jackie-Jenkins Scott is the kind of responsive, compassionate, and people centered leader that our times demand and our communities deserve. I have had the joy and privilege to learn from her first hand and I am so grateful that as we navigate turbulent times as a nation, she has put forth in writing her vision, insight, and approach. A must read for those who want to lead with love and stay rooted in community." - Congresswoman Ayanna Pressley
— Ayanna Pressley
"Jackie Jenkins-Scott provides a road map for effective leadership by laying bare the realities of the challenges, choices and dilemmas that face leaders today. This is a must read, practical and thoughtful tool for anyone who aspires to become a responsive, effective, and successful leader."- Deborah C. Jackson, President, Cambridge College
— Deborah C. Jackson