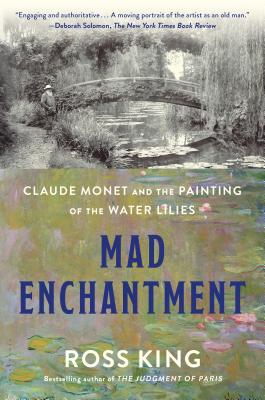 Mad Enchantment
Claude Monet and the Painting of the Water Lilies
Paperback

* Individual store prices may vary.
Other Editions of This Title:
Hardcover (9/6/2016)
MP3 CD (1/31/2017)
Description
From bestselling author Ross King, a brilliant portrait of the legendary artist and the story of his most memorable achievement.

Claude Monet is perhaps the world's most beloved artist, and among all his creations, the paintings of the water lilies in his garden at Giverny are most famous. Monet intended the water lilies to provide "an asylum of peaceful meditation." Yet, as Ross King reveals in his magisterial chronicle of both artist and masterpiece, these beautiful canvases belie the intense frustration Monet experienced in trying to capture the fugitive effects of light, water, and color. They also reflect the terrible personal torments Monet suffered in the last dozen years of his life.

Mad Enchantment tells the full story behind the creation of the Water Lilies, as the horrors of World War I came ever closer to Paris and Giverny and a new generation of younger artists, led by Henri Matisse and Pablo Picasso, were challenging the achievements of Impressionism. By early 1914, French newspapers were reporting that Monet, by then seventy-three, had retired his brushes. He had lost his beloved wife, Alice, and his eldest son, Jean. His famously acute vision--what Paul Cezanne called "the most prodigious eye in the history of painting"--was threatened by cataracts. And yet, despite ill health, self-doubt, and advancing age, Monet began painting again on a more ambitious scale than ever before. Linking great artistic achievement to the personal and historical dramas unfolding around it, Ross King presents the most intimate and revealing portrait of an iconic figure in world culture.
Praise For Mad Enchantment: Claude Monet and the Painting of the Water Lilies…
"Ross King's Mad Enchantment: Claude Monet and the Painting of the Water Lilies is an engaging and authoritative portrait of the aged artist and his travails . . . the Monet who emerges from King's pages is a sympathetic and vivid character . . . A moving portrait of the artist as an old man." - Deborah Solomon, The New York Times Book Review

"King, author of books on Michelangelo, Leonardo and Machiavelli, offers a well-researched and in-depth account, based on Monet's letters and the reminiscences and writings of his many friends and admirers. . . . Readers will come away with an enhanced understanding of Monet's art, about which King is insightful and articulate. And when King animates the colorful politics of Monet's France, the book sparkles." - Philip Kennicott, The Washington Post

"King, an exhaustive researcher and a pleasing writer, has produced a perceptive chronicle of war and friendship, shifting tastes and lasting art -- and of the painted reflections of a pond that became a mirror." - Christopher Sullivan, The Associated Press

"[A] sensitive, deeply researched and altogether delightful biography." - Newsday

"Biographer Ross King once again puts a human face on the historical narrative of an artistic triumph . . . . [Monet] described himself as 'at war with nature and time,' and 'Mad Enchantment' captures that war with page-turning intensity." - Christian Science Monitor

"If beauty is in the eye of the beholder, than anyone who is not drawn into Mad Enchantment: Claude Monet and the Painting of the Water Lilies by Ross King is truly visually impaired . . . Mad Enchantment is a book to be read and enjoyed; it is a learning experience for those both learned and inexperienced in the world of art. Ross King does an exemplary job of bringing Claude Monet back to life. This one belongs on the bookshelf within easy reach." - New York Journal of Books

"Mr. King's portrait of Monet--as driven, largely generous, sometimes petulant, never quite cruel--is finely balanced. . . Mr. King's first-rate 'The Judgment of Paris: The Revolutionary Decade That Gave the World Impressionism' (2006) centered on youth and aesthetic revolt. 'Mad Enchantment,' by contrast, celebrates the twilit culmination of the Impressionist movement. Taken together, they are satisfying and informative bookends." - Wall Street Journal

"A vivid account of Claude Monet (1840-1926) facing his greatest artistic challenge in the last years of his life. . . . King elegantly reveals the soul of a great artist, the last impressionist standing at the end of one of history's most remarkable art movements." - starred review, Kirkus

"King is ever the brilliant docent murmuring the right, telling details and critical backstories in our ear as we move through space and time. He ultimately brings the man and his work into perfect focus while increasing his audience's interest in both all the more. VERDICT This work is essential." - starred review, Library Journal

"Best-selling King (Leonardo and the Last Supper, 2012) consummately meshes biography with art history as he turns the creation of one resounding masterpiece into a portal onto the artist's life. . . . Never before has the full drama and significance of Monet's magnificent Water Lilies been conveyed with such knowledge and perception, empathy and wonder." - starred review, Editors' Choice, Booklist

"King's marvelous storytelling draws us back to these sublime, timeless paintings, so remote from -- and yet, paradoxically, so necessary a part of -- our own unquiet times." - Dallas Morning News

"Ross King has a knack for explaining complicated processes in a manner that is not only lucid but downright intriguing . . . Fascinating." - Los Angeles Times on BRUNELLESCHI'S DOME

"An altogether enchanting tale." - Dava Sobel, author of LONGITUDE and GALILEO'S DAUGHTER, on BRUNELLESCHI'S DOME

"[A] dramatic, vivid, and brainy mix of biography and art history." - starred review, Booklist on LEONARDO AND THE LAST SUPPER

"A fascinating and in-depth story of one of the world's most famous works of art that will appeal to general readers as well as academics. Highly recommended." - starred review, Library Journal on LEONARDO AND THE LAST SUPPER

"Riveting . . . Such material could have been tedious in less nimble literary hands. But so thorough is King's grasp of the Second Empire's cultural politics, so ironic his wit and choice of detail, that his text remains a page-turner throughout." - Los Angeles Times on THE JUDGMENT OF PARIS

"Scrupulously researched, written with wit and panache, Ross King's Michelangelo and the Pope's Ceiling is a sublime peek into a remarkable era." - Miami Herald on MICHELANGELO AND THE POPE'S CEILING
Bloomsbury USA, 9781632860132, 416pp.
Publication Date: September 12, 2017
About the Author
Born and raised in Canada, Ross King has lived in England since 1992. In 2002—03, two books of his were published in the United States, Domino, about the world of masquerades and opera in 18th century London and the New York Times bestselling Michelangelo and the Pope's Ceiling.

Nominated for a National Book Critics Circle Award in 2003 in the category of critisicm, in Michelangelo and the Pope's Ceiling King tells the story of the four years—1508-1512.—Michelangelo spent painting the ceiling of the newly restored Sistine chapel. In this extraordinary book, he presents a magnificent tapestry of day-to-day life of the ingenious Sistine scaffolding and outside in the upheaval of early 16th century Rome.

King's highly acclaimed Brunelleschi's Dome: How a Renaissance Genius Reinvented Architecture, was an instant hit in the U.S., landing on the New York Times, Boston Globe and San Francisco Chronicle bestseller lists and becoming a handselling favorite among booksellers. Brunelleschi's Dome was chosen "The 2000 Book Sense Nonfiction Book of the Year" and a Book Sense 76 top ten selection.

Anyone familiar with Ross King's writing knows that he has an astonishing knowledge of European cultural history. He originally planned a career in academia, earning his Ph.D. in English Literature and moving to England to assume a research position at the University of London.

King lives near Oxford, England, in the historic town of Woodstock, the site of Blenheim Palace. He is a devoted cyclist and hikes regularly in both the Pyrenees and the Canadian Rockies.
or
Not Currently Available for Direct Purchase