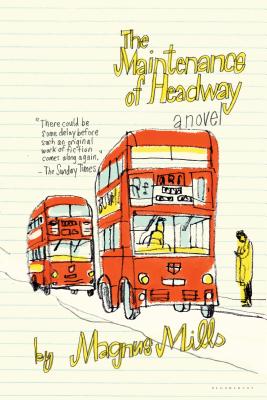 The Maintenance of Headway
Paperback

* Individual store prices may vary.
Description
From the Booker-shortlisted author acclaimed as having "no literary precedent" (Independent) comes a gently absurd examination of the systems that trap and frustrate us daily. Fans of dry humor will enjoy this tale of mishap and folly, told from the point of view of a bus driver who's been charged to maintain a precise distance between himself and other buses--a directive that leads him to ignore the very passengers he's meant to serve.
Witty, allegorical, and intelligent, this is a novel for all those who have ever run for a bus, only to have it pull away as they reach its doors. Showcasing all of Mills' strengths, it is the perfect reintroduction for American readers to an incomparable talent.
Praise For The Maintenance of Headway…
"It's finally happened: Britain's most famous bus-driving novelist has given us a novel about buses. All your questions will be answered: why do you wait for ages only for three to come at once? Who are those men who hang around bus stops muttering into handsets? And why do buses suddenly terminate halfway into your journey? . . . There is a perfect match between Mills' subject and his peculiar obsessions . . . Brilliant." —Independent
"Once you've read this excellent, funny, intelligent book, it will make you look in a more kindly way on that harried driver as he zooms away into the night." —Daily Telegraph
"Mills' deadpan humor about the surreal workings of the transport authority has a distinct ring of truth. This novel should be required reading for those in charge of our chaotic public transport system." —Daily Mail
"A subtle meditation on what it means to try to impose order in a fundamentally chaotic world . . . I suspect Mills has much more to say about power, officialdom, and even buses than he has done here. However, his reticence has always given readers space to think, and his deadpan celebration of chaos is even heart-warming." —The Guardian
Bloomsbury USA, 9781632860361, 160pp.
Publication Date: May 19, 2015
About the Author
Magnus Mills is the author of The Restraint of Beasts, All Quiet on the Orient Express, and Three to See the King. He lives in London.
or
Not Currently Available for Direct Purchase