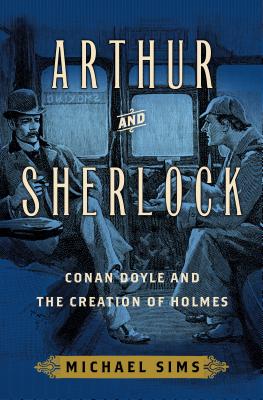 Arthur and Sherlock
Conan Doyle and the Creation of Holmes
Hardcover

* Individual store prices may vary.
Other Editions of This Title:
Paperback (5/15/2018)
Description
2018 Edgar Award Nominee
Shortlisted for the H. R. F. Keating Award from the International Crime Writers Association

From Michael Sims, the acclaimed author of The Story of Charlotte's Web, the rich, true tale tracing the young Arthur Conan Doyle's creation of Sherlock Holmes and the modern detective story.
As a young medical student, Arthur Conan Doyle studied in Edinburgh under the vigilant eye of a diagnostic genius, Dr. Joseph Bell. Doyle often observed Bell identifying a patient's occupation, hometown, and ailments from the smallest details of dress, gait, and speech. Although Doyle was training to be a surgeon, he was meanwhile cultivating essential knowledge that would feed his literary dreams and help him develop the most iconic detective in fiction.
Michael Sims traces the circuitous development of Conan Doyle as the father of the modern mystery, from his early days in Edinburgh surrounded by poverty and violence, through his escape to University (where he gained terrifying firsthand knowledge of poisons), leading to his own medical practice in 1882. Five hardworking years later--after Doyle's only modest success in both medicine and literature--Sherlock Holmes emerged in A Study in Scarlet.Sims deftly shows Holmes to be a product of Doyle's varied adventures in his personal and professional life, as well as built out of the traditions of Edgar Allan Poe, Émile Gaboriau, Wilkie Collins, and Charles Dickens--not just a skillful translator of clues, but a veritable superhero of the mind in the tradition of Doyle's esteemed teacher.
Filled with details that will surprise even the most knowledgeable Sherlockian, Arthur and Sherlock is a literary genesis story for detective fans everywhere.
Praise For Arthur and Sherlock: Conan Doyle and the Creation of Holmes…
"With all the brilliance of Sherlock himself . . . Sim's magnificent work of scholarship isn't a birth-to-death biography of Conan Doyle but a more specific investigation . . . [which] reads something like a superhero origin story . . . Sims, the author of books on E.B. White and Henry Thoreau, is himself an ingenious investigator. Among his most intriguing explorations is his teasing out of not just Conan Doyle's personal history but the history of the detective story itself." - New York Times Book Review
"For those who can't get enough, Michael Sims's engaging new book, Arthur and Sherlock, describes how Arthur Conan Doyle invented his famous detective . . . Enlightening" - Washington Post
"Fans of Sherlock Holmes who want to know about the equally remarkable man who created him can learn a good deal from Arthur and Sherlock by Michael Sims. Mr. Sims has cast a broad net over existing sources to tell the story of Conan Doyle's early life, how he came to create Holmes and the hurdles the young doctor surmounted to become one of the English-speaking world's best known authors . . . Arthur and Sherlock captures both [Joseph] Bell's central role in the making of Sherlock and Conan Doyle's unstinting gratitude to him." - Wall Street Journal
"Sims's expertise in both literature and history is again on display . . . In Arthur and Sherlock Sims has written not just a wonderful narrative of the invention of a beloved character but a case study of the creative process. By following all the leads and tracking down all the clues that led Doyle to Holmes, Sims illustrates the miracle of literature." - Chapter16.org
"Many Holmes fans know the bones of the origin story, but Sims dives deep into Conan Doyle's biography to put flesh on it. The physician-turned-writer becomes much more human to the reader in the process." - Seattle Times
"A delightful piece of detective work." - Nature
"Sims' story effectively retells the story of the young Doyle as something of a Holmes himself, someone who could persuade readers that 'seeming clairvoyance beyond the limits of direct knowledge was possible in the real world.' The author's deeply researched but reader-friendly take on Doyle and Holmes fits nicely along recent books by Michael Dirda and Barry Grant, and it stands, like Samuel Rosenberg's centrifugal book Naked Is the Best Disguise (1974), as a work of literature all its own. Even the most learned of Baker Street Irregulars will enjoy Sims' look at the making of Sherlock Holmes." - starred review, Kirkus Reviews
"Sims makes clear just how much of [Joseph Bell's] brilliant and theatrical persona was infused into Sherlock . . . [A] well-told biographical tale . . . There is much to observe here." - Dallas Morning News
"Concise and well-written. . . [with] passages that read as if Dr. Watson was penning them. Sims's skill and deftness with narrative biography will lead Sherlockians to hope that he continues the story of Conan Doyle's life in a future volume." - Publisher's Weekly
"A warm and affectionate look at how Arthur Conan Doyle introduced the Great Detective and the Good Doctor to the world! Sims traces Holmes's literary ancestors as well as Doyle's personal contributions, producing a carefully researched but thoroughly readable work that will surely appeal to the millions of Holmes's admirers as well as students of crime-writing." - Leslie S. Klinger, Editor, THE NEW ANNOTATED SHERLOCK HOLMES
"Sims combines extensive scholarship with excellent writing and organizational skills to produce a work that is not only informative but eminently readable. What's most interesting is how he places Doyle, Holmes and the genre in historical context." - Minneapolis Star Tribune
"Stuffed with fascinating detail. . . . The book is brimfull of Holmesian arcana and minutiae. . . . Offers many intriguing insights into Holmes's evolution . . . . A stimulating contribution to our never-ending fascination with Sherlock Holmes, and, even more perhaps, with his genial creator." - Christopher Hart, Sunday Times (London)
"This volume may tread a well-trod path, but it does so with fresh eyes. Sims combines his talent as a science writer and a literary critic as he traces the career of Conan Doyle under the tutelage of Dr. Joseph Bell, and traces the influence of Poe, Gaboriau, Dickens, and Collins." - Ellery Queen's Mystery Magazine
"Sims examines Doyle's youth in Edinburgh, where he lived amid poverty and violence, as well as his university studies and medical practice. Drawing connections between the adventures in Doyle's professional life and the life of Doyle's cherished character, Arthur and Sherlock will prove fascinating to Sherlock Holmes connoisseurs, and is a 'must' for public and college library Literary Studies collections. Highly recommended." - Midwest Book Review
"Noted literary scholar . . . Sims traces the literary influences on Doyle as well as that of surgeon and diagnostician Joseph Bell, the professor whose teachings helped Doyle create Sherlock as the first 'scientific detective.'" - Alfred Hitchcock's Mystery Magazine
"In Arthur and Sherlock, literary historian Michael Sims traces some of Doyle's grand adventures, including expeditions to the polar icecap and Africa, and shows how they became fodder for his early prose. . . . There is something in this marvelous book for everyone, and short, vivid chapters keep the pages turning. From early reviewers who couldn't spell Doyle's name to grand lunches with famous magazine editors alongside Oscar Wilde, Sims knows how to paint a picture that fascinates and delights. Arthur and Sherlock will take its place on the growing shelf of literary histories presented by this talented and eloquent writer." - Bookpage
"Sims makes this carefully researched book approachable as well as scholarly. Recommended for readers interested in Doyle and the genesis of the detective novel, as well as those seeking informative, entertaining reading." - Library Journal
"What's special is the magnifying lens the author uses to bring up interesting details . . . In the stunning middle chapters, Sims gathers the influences shaping Holmes. Not just the predictable ones . . . Holmes devotees will find much of interest here." - Booklist
"A special look at the creative process through biography. . . . Masterful. . . . A slim look at Conan Doyle's life and the way he used it to create a detective more scientific and observant than any other." - Chicago Now
Bloomsbury USA, 9781632860392, 256pp.
Publication Date: January 24, 2017
About the Author
Michael Sims is the author of The Story of Charlotte's Web, which the Washington Post, Boston Globe, and other venues chose as a Best Book of the year; Adam's Navel, which was a New York Times Notable Book and a Library Journal Best Science Book; The Adventures of Henry Thoreau; and other books. He edits The Connoisseur's Collection series of Victorian anthologies, including The Dead Witness (detective stories), and also edited The Penguin Book of Victorian Women in Crime and The Penguin Book of Gaslight Crime. His Sherlockian pastiche "The Memoirs of Silver Blaze" appears in the Anthony Award-winning anthology In the Company of Sherlock Holmes. He lives in western Pennsylvania with his wife and son.
or
Not Currently Available for Direct Purchase