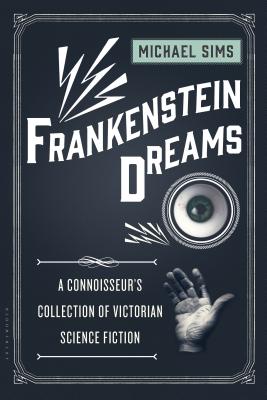 Frankenstein Dreams (Paperback)
A Connoisseur's Collection of Victorian Science Fiction (The Connoisseur's Collections)
Bloomsbury USA, 9781632860415, 400pp.
Publication Date: September 5, 2017
Other Editions of This Title:
Compact Disc (9/5/2017)
Pre-Recorded Audio Player (12/5/2017)
* Individual store prices may vary.
Description
From Mary Shelley to H.G. Wells, a collection of the best Victorian science fiction from Michael Sims, the editor of Dracula's Guest.
Long before 1984, Star Wars, or The Hunger Games, Victorian authors imagined a future where new science and technologies reshaped the world and universe they knew. The great themes of modern science fiction showed up surprisingly early: space and time travel, dystopian societies, even dangerously independent machines, all inspiring the speculative fiction of the Victorian era.
In Frankenstein Dreams, Michael Sims has gathered many of the very finest stories, some by classic writers such as Jules Verne, Mary Shelley, and H.G. Wells, but many that will surprise general readers. Dark visions of the human psyche emerge in Thomas Wentworth Higginson's "The Monarch of Dreams," while Mary E. Wilkins Freeman provides a glimpse of "the fifth dimension" in her provocative tale "The Hall Bedroom.'
With contributions by Edgar Allan Poe, Alice Fuller, Rudyard Kipling, Thomas Hardy, Arthur Conan Doyle, and many others, each introduced by Michael Sims, whose elegant introduction provides valuable literary and historical context, Frankenstein Dreams is a treasure trove of stories known and rediscovered.
About the Author
Michael Sims is the author of The Story of Charlotte's Web, which the Washington Post, Boston Globe, and other venues chose as a Best Book of the year; The Adventures of Henry Thoreau; and Arthur and Sherlock, among other books. He edits The Connoisseur's Collection series of Victorian anthologies, including Dracula's Guest, The Dead Witness, and The Phantom Coach. He lives in western Pennsylvania.
Praise For Frankenstein Dreams: A Connoisseur's Collection of Victorian Science Fiction (The Connoisseur's Collections)…
"Frankenstein Dreams, an anthology of mostly-Victorian science fiction edited by Michael Sims . . . is more interested in how that novel fits the wider scope of Shelley's century, and shaped the genre after it . . . While several stories are familiar explorations of psychology and morality (see Dr. Jekyll and Mr. Hyde), some of the most interesting selections in Frankenstein Dreams aim for something more ambiguous . . . all of them are illuminating. That ends up being the greatest strength of Frankenstein Dreams." - NPR.org
"The 1890s may have been the time when sci-fi really took off. But were there no forerunners, no hints of what was just about to come? Michael Sims's anthology "Frankenstein Dreams" brings the issue into focus." - Wall Street Journal
"At a time when the world can seem ever more like science fiction, there is something intensely charming and even refreshing about Frankenstein Dreams." - January Magazine
"In this magnificent collection, Sims has chosen authors that range from the mighty Poe to the infamous Kipling to the beloved H.G. Wells . . . Every story is a perfect choice for the topic." - Suspense Magazine
"Even the most devoted science fiction reader will find unfamiliar treats in this assemblage of foundational fiction." - Publishers Weekly
"A highly entertaining fusion of visionary speculation and primordial terror, the stories included [in Frankenstein Dreams] merged cutting-edge science with fiction and essentially created a new category that explored what it means to be human in a world irrevocably changed by technological innovations and conceptual advancements . . . It's the lesser-known short stories that make this anthology so thematically compelling . . . A thought-provoking and undeniably entertaining read." - Kirkus Reviews
"The 20 works collected by [Michael Sims] highlights the importance of Victorian sf literature, both in its rich contributions to the genre and its exploration of the deeper themes that are still relevant today." - Library Journal
"Sims includes a lot of great stories . . . They, along with the brief introduction Sims provides for each, are fun to read. Still--what might be most interesting, though, is reading them as a collection and attempting to see what's changed--and what hasn't . . . 8/10." - PopMatters
"Editor Sims has amassed a historical and interestingly diverse example of the speculative writing of the Victorian Era. With an Introduction explaining some of the scientific discoveries and theories of the day and linking them to specific stories, the anthology sets the mood for what is to come . . . This volume contains a fascinating cross-section of those tales that become the forebears of the many science fiction/fantasy stories of our 20th and 21st centuries." - The New York Journal of Books
"Michael Sims has another stunning anthology to his name . . . I can't recommend Sims' work enough--both his curated collections and his own creations. Add this to your Halloween reads, or indeed, your anytime of the year reads." - Meaghan Walsh Gerard
"Sims, whose elegant introduction provides valuable literary and historical context, has gathered many of the finest stories, some by classic writers such as Jules Verne, Edgar Allan Poe, Mary Shelley and H.G. Wells, but many that will surprise general readers . . . Perpetual human concerns meet modern anxieties in these tales that grapple with time, mortality, the senses and the unknown . . . The major themes of modern science fiction emerge: Space and time travel, dystopian societies, dangerously independent machines, all inspiring the speculative fiction of the Victorian era." - The Entertainment Report
"As delightful as it is to see world-famous authors honored as midwives to the birth of a genre, what sets this collection apart are the gems Sims has found among the works of lesser-known writers . . . Frankenstein Dreams demonstrates [Sims's] continued devotion to finding the inspirations for and evolution of various literary themes. In doing so, he offers real insight into not only the stories but also, in his brief author biographies, their creators." - Chapter16.org