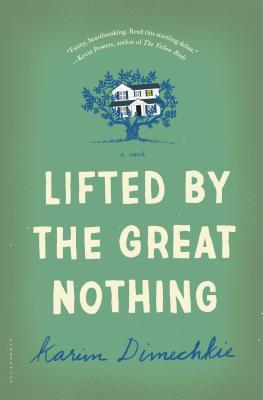 Lifted by the Great Nothing
Hardcover

* Individual store prices may vary.
Other Editions of This Title:
Paperback (4/5/2016)
MP3 CD (4/5/2016)
Description
Max doesn't remember his mother, who was murdered by burglars before they emigrated from Beirut to New Jersey. He lives with his father, Rasheed, who is enamored of his concept of American culture--baseball and barbeques--and tries to shed his Lebanese heritage completely. "When we are in America," Reed (for he goes by Reed in America, not Rasheed) tells Max, "we are Americans."

Rasheed has a single purpose in life: to provide Max with a joyful childhood. He showers his son with gifts out of a belief that he deserves all and is capable of anything. Max wants nothing more than to convince his father that he is a successful single parent. The only thing that can disrupt their peaceful universe is the truth--which it does, with force.

When Max turns seventeen, he learns from Rasheed's ex-girlfriend that his father has been lying to him. Max's understanding of the world is so rocked that he is subsequently launched on an uncertain mission to Beirut and then Paris.

Lifted by the Great Nothing is a startlingly graceful, and often hilarious, coming-of-age story about the lengths we go to preserve the untruths we live by. With its poignant relationships, unsettling misadventures, and surprising love stories, it is a touching and devastating portrait of a young man coming to terms with his country's--and his own--violent past.
Praise For Lifted by the Great Nothing…
"The characters immediately drew me in to this funny, heartbreaking novel--they are brilliantly alive. Karim Dimechkie is one of the most psychologically attuned, wise, and evocative young novelists I've read. Read this startling debut." —Kevin Powers, author of the bestselling National Book Award Finalist THE YELLOW BIRDS

"Karim Dimechkie is a promising young writer with a fresh, subversive take on the exile and immigrant experience and the stains it leaves on those who survive it or inherit it. Here's a talent to watch and follow." —Jim Crace, Whitbread Award Winner, National Book Critics Circle Award Winner, and Booker Finalist

"A hugely original, big hearted, and staggering debut. Karim Dimechkie's talent leaps off of every page. I know his book will stay with me a very long time." —Philipp Meyer, author of the bestselling Los Angeles Times Book Prize Winner AMERICAN RUST and bestselling Pulitzer Finalist THE SON

"A raw, warm, hilarious, and fearlessly revealing tale of growing up; a 21st-century American bildungsroman; and above all, a story of the love between a father and son. Insightful, reaching, and heart-breaking, this brilliant debut novel is a pure original." —Smith Henderson, author of FOURTH OF JULY CREEK

"Dimechkie torches the barriers of race, gender, nation, and sexuality in this modern family portrait. There are no types or caricatures--only unforgettable voices. Open it as soon as possible." —Dayo Olopade, author of THE BRIGHT CONTINENT

"Since putting this book down, I have been unable to shake it. The bewildering emotional range in these pages--sidesplitting humor, devastating loss, and magnificent hope--strike at the truest chords of what it is to be human." —Mary Miller, author of THE LAST DAYS OF CALIFORNIA

"Dimechkie accomplishes that great trick: he makes us grip the book we're reading more tightly while anticipating all of his wonderful books yet to come." —Rakesh Satyal, author of BLUE BOY

"Tender, hilarious, and hyper-observant, Lifted by the Great Nothing is the best novel about cultural confusion I've read in ages. Dimechkie combines the environs of small-town America with global situations in a way that is breathtaking." —Karan Mahajan, author of FAMILY PLANNING

"Dimechkie's character-driven coming-of-age novel is less about the immigrant experience than about a literal and figurative journey of self-discovery. It is also a love story between father and son, yes, but also between Max and the older woman doctor who lives across the street. And in a novel featuring Lebanon, it is no surprise that politics and social justice also play a part. All of these disparate elements come together seamlessly as Max struggles to deal with the new realities of his life." —Booklist

"A finely nuanced look at race, gender, and power in American society. Dimechkie is at his best when allowing his great development of character . . . A promising debut penned in vivid, suspenseful prose that gives a new spin to the classic tale of fathers and sons." —Kirkus Reviews

"Dimechkie writes without restraint, and the book covers homosexuality, racism, identity politics, and immigration . . . A well-written, engaging story . . . showing a writer with true potential." —Publishers Weekly

"Sentimentality sometimes seems like a given in coming-of-age stories; fortunately, Karim Dimechkie's debut, Lifted by the Great Nothing, avoids it at every turn . . . A rendering of a family torn apart not only by a civil war, but by a stubborn unwillingness to concede to the differences within itself, Lifted by the Great Nothing is awkward, challenging, and funny. It's sharp and frank--and, like any good family, it stays with you." —The Daily, the Paris Review blog

"Like some wacky, delightful dream . . . The family truth the father tries to hide, the discoveries of young manhood son Max seeks to find--there's just so much of everything going on in these pages that captured my attention completely in this charming novel about function and dysfunction, giving and loving, so much that made me wonder, made me laugh." —Alan Cheuse, "All Things Considered", NPR

"Quirky, funny, often poignant . . . Dimechkie is at his best when he's inhabiting the inner mind of a boy uncertain how to navigate a grown-up world where everybody is carrying at least a few secrets." —Oprah.com, Best Books of Spring

"Endearing . . . An exhilarating and devastating encounter with disorientation." —San Antonio Current

"[A] soulful rumination on fathers and sons and one boy's coming of age." —San Francisco Chronicle

"Lifted by the Great Nothing plays a fine-tuned rainbow of delicate emotions like a harp." —DuJour Magazine

"Funny, poignant and heartbreaking, a true-to-life coming-of-age novel . . . Dimechkie is a splendid storyteller, lacing his prose with apt and unexpected analogies and metaphors . . . Dimechkie got everything right." —Minneapolis Star Tribune

"[A] whip-smart novel about immigration, identity (sexual, social, political) and the inevitable end of innocence." —MORE Magazine
Bloomsbury USA, 9781632860583, 304pp.
Publication Date: May 19, 2015
About the Author
Karim Dimechkie was a Michener Fellow. Before that he taught English in Paris. This is his first book. He lives in New York City.
Coverage from NPR
or
Not Currently Available for Direct Purchase