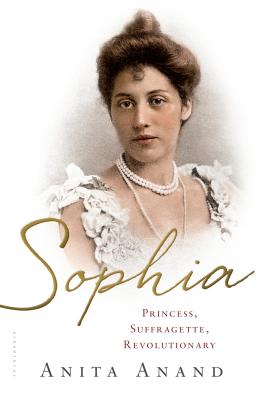 Sophia
Princess, Suffragette, Revolutionary
Hardcover

* Individual store prices may vary.
Other Editions of This Title:
Paperback (7/19/2016)
Description
In 1876 Sophia Duleep Singh was born into Indian royalty. Her father, Maharajah Duleep Singh, was heir to the Kingdom of the Sikhs, one of the greatest empires of the Indian subcontinent, a realm that stretched from the lush Kashmir Valley to the craggy foothills of the Khyber Pass and included the mighty cities of Lahore and Peshawar. It was a territory irresistible to the British, who plundered everything, including the fabled Koh-I-Noor diamond.

Exiled to England, the dispossessed Maharajah transformed his estate at Elveden in Suffolk into a Moghul palace, its grounds stocked with leopards, monkeys and exotic birds. Sophia, god-daughter of Queen Victoria, was raised a genteel aristocratic Englishwoman: presented at court, afforded grace and favor lodgings at Hampton Court Palace and photographed wearing the latest fashions for the society pages. But when, in secret defiance of the British government, she travelled to India, she returned a revolutionary.

Sophia transcended her heritage to devote herself to battling injustice and inequality, a far cry from the life to which she was born. Her causes were the struggle for Indian Independence, the fate of the lascars, the welfare of Indian soldiers in the First World War--and, above all, the fight for female suffrage. She was bold and fearless, attacking politicians, putting herself in the front line and swapping her silks for a nurse's uniform to tend wounded soldiers evacuated from the battlefields. Meticulously researched and passionately written, this enthralling story of the rise of women and the fall of empire introduces an extraordinary individual and her part in the defining moments of recent British and Indian history.
Praise For Sophia: Princess, Suffragette, Revolutionary…
"A groundbreaking work that at last tells the important story of Sophia Duleep Singh: unflinching princess-in-exile, doughty moderniser and tenacious suffragette. From the streets of India to the corridors of power, Sophia artfully examines the tensions between East and West; and one woman's choice between fighting for freedom and staying silent." —Amanda Foreman, author of A WORLD ON FIRE

"Anita Anand has definitively restored to history one of the most important and charismatic figures in the suffragette movement. This thoroughly absorbing and deftly informative account instantly pulled me into the irresistible adventure and vitality of Sophia Duleep Singh's defiant and innovative existence. Anand's timely biography is a wonderful testament to Sophia's lifetime of commitment to Indian independence and the advancement of women, and to the range and courage of her achievements." —Rachel Holmes, author of ELEANOR MARX: A LIFE

"Anand writes a sympathetic biography that reads almost like a novel . . . One part glittering socialite, one part activist, and entirely unique, Sophia adds a previously unexplored facet to the tumultuous progressive era that remade the Western world." —Publishers Weekly

"Anand writes with a journalist's sense for a solid story and a historian's eye for fascinating anecdotes. Filled with rich detail and walks through little-known avenues of the past." —starred review, Library Journal

"A richly textured portrait . . . An excellent job of detailing the social and historical backdrop while highlighting the daring and revolutionary nature of Sophia's choices and accomplishments." —Booklist

"Providing a rare glimpse into imperialism's intimate effects, this biography explores the forces that radicalized [Sophia], including an early trip to India and the British aristocracy's refusal to countenance mixed-race unions, which prevented her from marrying." —The New Yorker

"Anand has done a yeoman's job of pulling together Sophia's fascinating biographical history." —Los Angeles Times

"Part of a biographer's job is to rescue forgotten figures, and in Sophia: Princess, Suffragette, Revolutionary Anita Anand has salvaged an extraordinary one . . . Spanning a century of tremendous upheaval in India and England, this lively if overstuffed biography is a compendium of monumental figures, from Winston Churchill to Mohandas Ghandi to Emmeline Parkhurst." —New York Times Book Review

"An engrossing new biography . . . The book is a reminder that many interesting historical figures are still waiting to have their stories told." —The Daily Beast

"Anand astutely draws connections between the rise of nationalism across Britain's colonies in the early 20th century and the intensifying battles for women's suffrage and labor rights . . . Anand is able to highlight how the British government's entwined aristocratic and colonial dominance made it especially resistant to the women's claims." —The Washington Post

"In Sophia Ms. Anand tells her subject's story with verve and on a broad canvas, an accomplishment because so few of the princess's own writings remain." —Wall Street Journal Weekend

"Anita Anand's groundbreaking biography, thoroughly researched and written with considerable verve, does her subject full justice--and then some." —Washington Times

"Anand does an excellent job of providing as full a background as possible to Sophia's early life, and it is packed with incident and often moments of real hardship and despair . . . Anand gives us a great deal of background information about the political climate, as well as entries from Sophia's 1906-1907 diaries, which do let us hear her own voice." —Independent on Sunday

"The best stories, as we know, are often too far-fetched for fiction. This is one such, the long forgotten tale of Sophia Duleep Singh." —The Times

"Anita Anand's Sophia: Princess, Suffragette, Revolutionary unearths the extraordinary story of a forgotten British-Indian suffragette who went from Queen Victoria's goddaughter to militant activist." —Helen Lewis, Guardian

"A remarkable Sikh Suffragette . . . much admired . . . Sophia is a gem of a subject, in every sense. She and her siblings were frequently decked in diamonds and their story is rich on exotic jewels . . . Despite her illustrious background, Sophia might have remained a footnote to the extraordinary history of her legendary grandfather and spendthrift father, who indulged in an orgy of adultery, drinking and plotting against dastardly Brits, had Anand not stumbled upon her." —Glasgow Herald

"Princess Sophia Duleep Singh's life is one of those stories that begs for a gifted storyteller. Anand, a journalist, is more than up to the task . . . The book is an illuminating study of the splashes of color that complicated the often gray Victorian scene." —Daily Beast "Best Biographies of 2015"
Bloomsbury USA, 9781632860811, 432pp.
Publication Date: January 13, 2015
About the Author
Anita Anand has been a radio and television journalist for almost twenty years. She is the presenter of Any Answers on BBC Radio 4. During her career, she has also presented Drive, Doubletake and the Anita Anand Show on Radio 5 Live, and Saturday Live, The Westminster Hour, Beyond Westminster, Midweek and Woman's Hour on Radio 4. On BBC television she has presented The Daily Politics, The Sunday Politics and Newsnight. She lives in west London. This is her first book.
or
Not Currently Available for Direct Purchase