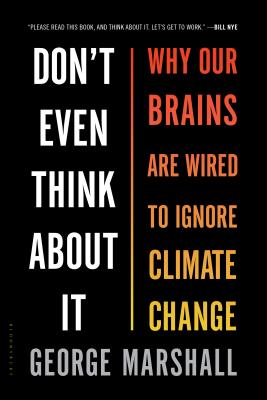 Don't Even Think About It
Why Our Brains Are Wired to Ignore Climate Change
Paperback

* Individual store prices may vary.
Other Editions of This Title:
Hardcover (8/19/2014)
MP3 CD (6/23/2015)
Description
An Esquire Essential Book on Climate Change

From the founder of the Climate Outreach and Information Network, a groundbreaking take on the most urgent question of our time: Why, despite overwhelming scientific evidence, do we still ignore climate change?

"Please read this book, and think about it." --Bill Nye

Most of us recognize that climate change is real yet we do nothing to stop it. What is the psychological mechanism that allows us to know something is true but act as if it is not? George Marshall's search for the answers brings him face to face with Nobel Prize-winning psychologists and Texas Tea Party activists; the world's leading climate scientists and those who denounce them; liberal environmentalists and conservative evangelicals. What he discovers is that our values, assumptions, and prejudices can take on lives of their own, gaining authority as they are shared, dividing people in their wake.

With engaging stories and drawing on years of his own research, Marshall argues that the answers do not lie in the things that make us different, but rather in what we share: how our human brains are wired--our evolutionary origins, our perceptions of threats, our cognitive blind spots, our love of storytelling, our fear of death, and our deepest instincts to defend our family and tribe. Once we understand what excites, threatens, and motivates us, we can rethink climate change, for it is not an impossible problem. Rather, we can halt it if we make it our common purpose and common ground. In the end, Don't Even Think About It is both about climate change and about the qualities that make us human and how we can deal with the greatest challenge we have ever faced.
Praise For Don't Even Think About It: Why Our Brains Are Wired to Ignore Climate Change…
"[Marshall] offers advice on confronting climate change head on, stepping away from Green Guilt, and putting potentially world-saving policies into action." —The Boston Globe

"Intelligent and genial . . . In the end, Marshall is neither fatalistic nor idealistic about our chances of survival. Yes, he says, we're wired to ignore climate change. But we're also wired to do something about it." —Washington Post

"Clearly we're not responding to the reality of climate change with the speed the crisis requires. This book explains some of the reasons that could be--and how we might work around them in the short time that we have." —Bill McKibben, author of Eaarth

"The science of climate change is easy: burning fossil fuels creates greenhouse gasses that are warming our world. George Marshall reminds us about the hard part: connecting the wellhead to the tailpipe in people's minds as soon as possible. Please read this book, and think about it. Let's get to work." —Bill Nye

"Illuminating and important--makes clear why we continue down a dangerous path of increasing climate disruption, even when attractive, hospitable, alternative paths are available." —James Hansen, author of Storms of My Grandchildren and Former Director of NASA Goddard Institute for Space Studies

"George Marshall is one of the most interesting, challenging and original thinkers on the psychology of our collective climate denial. If his advice were heeded, we might just have the courage to look unblinkingly at this existential crisis, and then to act." —Naomi Klein, author of This Changes Everything and The Shock Doctrine

"Enlightening." —Publishers Weekly

"A real soul searching challenge for us all. Marshall illuminates the path to embarking on a heroic quest for a just and equitable world. A sobering, yet hopeful book." —Frank DiSalvo, Director of the Atkinson Center for a Sustainable Future, Cornell University

"In 42 engaging, bite-size chapters, Marshall presents the psychological research demonstrating why climate change simply doesn't feel dangerous enough to justify action and how we can trick our brains into changing our sense of urgency about the problem. His work is a much needed kick in the pants for policymakers, grassroots environmentalists, and the public to induce us to develop effective motivational tools to help us take action to face the reality of climate change before it's too late." —Booklist

"Fantastic." —Grist

"Essential reading for everyone interested in communicating the science of climate change and its urgent policy implications." —Critical Angle

"This is not a book to read and put away--but one that merits returning to and engaging with intellectually. Is there a higher compliment that one can give an author?" —Daily Kos
Bloomsbury USA, 9781632861023, 272pp.
Publication Date: August 18, 2015
About the Author
George Marshall founded the Climate Outreach and Information Network and has worked for twenty-five years in the environmental movement, including senior positions for Greenpeace USA and the Rainforest Foundation. He is a leading European expert in climate change communications, is a lead advisor to the Welsh government, and counts major nonprofit organizations, politicians, businesses, and trade unions among his many clients. His website is http://climatedenial.org/.