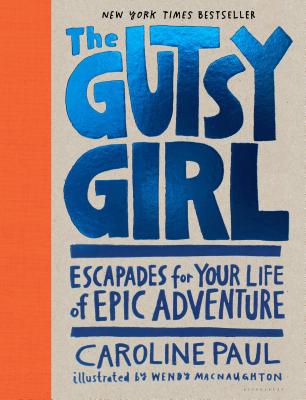 The Gutsy Girl
Escapades for Your Life of Epic Adventure
Hardcover

* Individual store prices may vary.
Other Editions of This Title:
Digital Audiobook (8/29/2016)
Description
New York Times Bestseller

From the author of You Are Mighty, a real-life derring-do woman, a collection of exhilarating stories, activities, and tips to inspire girls to pursue a life of adventure and excitement.

Why should girls miss out on the joy of adventure? They can jump off rocks, swing on ropes, and climb trees just as well as boys can. But girls often allow fear to stand in their way.

In The Gutsy Girl, author Caroline Paul emboldens girls to seek out a life of exhilaration. Once a young scaredy-cat herself, Caroline decided that fear got in the way of the life she wanted--of excitement, confidence, self-reliance, friendship, and fun. She has since flown planes, rafted big rivers, climbed tall mountains, and fought fires as one of the first female firefighters in San Francisco. In The Gutsy Girl, she shares her greatest escapades as well as those of other girls and women from throughout history, and offers engaging activities such as confidence-building stances, creating a compass, positive self-talk, and using crickets to estimate outside temperatures. Each section includes a place for girls to "journal" their adventures, thus encouraging a new generation to develop a zest for challenges and a healthy relationship to risk. The Gutsy Girl is Lean In for young girls, a book about the glorious things that happen when you unshackle from fear and open up to exhilaration. Fully illustrated and enlivened throughout by bestselling illustrator Wendy MacNaughton's whimsical pen-and-ink drawings.
Praise For The Gutsy Girl: Escapades for Your Life of Epic Adventure…
"Caroline Paul's inspiring and sometimes astonishing stories of the adventures that she and other great women have undertaken, alongside Wendy MacNaughton's beautiful illustrations, make The Gutsy Girl the book of the year for daredevils, doers, and dreamers of all ages." —Cheryl Strayed, author of Wild

"The perfect book for young feminists, or really any woman who needs a dose of inspiration in her life . . . Viva la Gutsy Girl!" —Buzzfeed

"Part high-energy how-to guide, part hilarious memoir, and part interactive adventure journal designed to help girls of all ages build confidence, pluck, and bravery by venturing outside." —Outside Magazine

"Paul encourages readers--girls, specifically--to pursue lives of excitement in a book that blends elements of memoir, guidebook, and journal." —Publishers Weekly

"Delightful . . . There's a lot here that will thrill any girl--or boy--of any age." —San Francisco Chronicle

"If Pippi Longstocking and Sheryl Sandberg got together and penned a book for tween girls, this brilliantly written and illustrated gem would be it." —Parent.co

"An incredible book for raising 'gutsy' girls and a must-read for adventurous women . . . Paul's book will convince any woman that she, too, is destined for a life of epic adventure--whether it's in the woods or in the boardroom." —Quartz.com

"A must for inspiring girls of all ages--young and young at heart." —Stanford Magazine

"Paul's exuberant prose is made even better by Wendy MacNaughton's charming illustrations, which help place us in the adrenaline-fueled scenes . . . An adventure tome, field manual, journal, and self-help book all in one, Gutsy makes an excellent gift for girls graduating elementary school, though it's a good read for anyone. The book aims to help young women widen their comfort zone, face fear, and manage insecurity." - Sierra

"[Lost Cat] is revelatory . . . it moves easily and hilariously from one sentence and chapter to the next . . . it's ingeniously crafted . . . a fiercely charming narrative that sneaks up on a reader, just as the best fantastical books do . . . Lost Cat is an incredibly endearing work, a snapshot of the madness of loving and agonizing over and chasing after animals." —Jillian Steinhauer, The Los Angeles Review of Books, on LOST CAT

"An uncommonly charming and wise tale." —Alexis Madrigal, The Atlantic, on LOST CAT

"This playful, quirky book is like a cat that climbs into your lap and purrs; it's impossible not to love it." —Gayle Brandeis, San Francisco Chronicle, on LOST CAT

"A tender, imaginative memoir infused with equal parts humor and humanity . . . an absolute treat from cover to cover." —Maria Popova, Brain Pickings, on LOST CAT
Bloomsbury USA, 9781632861238, 160pp.
Publication Date: March 1, 2016
About the Author
Caroline Paul is the author of You Are Mighty, a young person's guide to changing the world, and Lost Cat, A True Story of Love, Desperation, and GPS Technology, as well as the memoir Fighting Fire and the novel East Wind, Rain. She is a longtime member of the San Francisco Writers' Grotto. Wendy MacNaughton is a New York Times bestselling illustrator whose books include Lost Cat, Pen & Ink, Knives & Ink, and Meanwhile in San Francisco. They live in San Francisco.