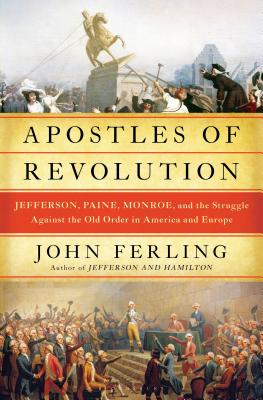 Apostles of Revolution
Jefferson, Paine, Monroe, and the Struggle Against the Old Order in America and Europe
Hardcover

* Individual store prices may vary.
Description
From acclaimed historian John Ferling, the story of how Thomas Jefferson, Thomas Paine, and James Monroe championed the most radical ideas of the American and French Revolutions.
Thomas Jefferson, Thomas Paine, and James Monroe were in the vanguard of revolutionary ideas in the 18th century. As founding fathers, they risked their lives for American independence, but they also wanted more. Each wished for profound changes in the political and social fabric of pre-1776 America and hoped that the American Revolution would spark republican and egalitarian revolutions throughout Europe, sweeping away the old monarchical order. Ultimately, each rejoiced at the opportunity to be a part of the French Revolution, a cause that became untenable as idealism gave way to the bloody Terror.
Apostles of Revolution spans a crucial period in Western Civilization ranging from the American insurgency against Great Britain to the Declaration of Independence, from desperate engagements on American battlefields to the threat posed to the ideals of the Revolution by the Federalist Party. With the French Revolution devolving into anarchy in the background, the era culminates with the "Revolution of 1800," Jefferson's election as president.
Written as a sweeping narrative of a pivotal epoch, Apostles of Revolution captures the turbulent spirit of the times and the personal dangers experienced by Jefferson, Paine, and Monroe. It reminds us that the liberty we take for granted is ours only because we, both champions and common citizens, have fought for it.
Praise For Apostles of Revolution: Jefferson, Paine, Monroe, and the Struggle Against the Old Order in America and Europe…
"Another winner of early American history from a renowned practitioner." - Kirkus Reviews
"Ferling brings the political struggles of his subjects to life, enriching readers both familiar and unfamiliar with the period's history with discussion of the now-obscure Federalist schemes to deny Jefferson the presidency in 1800. By noting present-day parallels to the risks that 19th-century oligarchs posed to democracy, Ferling has produced the best kind of popular history, one that illuminates why remembering the past is vital for the present." - Starred review, Publishers Weekly
"Ferling, a prolific and accomplished historian . . . compels his readers' interest . . A sophisticated view of revolutionary times on both sides of the Atlantic." - Booklist
"This compelling narrative will appeal to both scholarly and popular 18th ­century history enthusiasts as well as those who value representative government." - Library Journal
"[Ferling] covers Jefferson, Thomas Paine and James Monroe in a comparative biography . . . Artfully written chapters sketch their lives (birth to death), political careers, and publications. Summing up: Recommended." - CHOICE
"Once again, John Ferling has written an illuminating, insightful and absorbing study of the 18th-century age of Revolution. In Apostles of Revolution, he brings Jefferson, Paine and Monroe to life as they pursue, on two continents, their Enlightenment dreams of democracy and universal rights." - Susan Dunn, author of SISTER REVOLUTIONS: FRENCH LIGHTING, AMERICAN LIGHT
"John Ferling is brilliant to perceive that overlapping the stories of Jefferson, Paine, and Monroe brings these revolutionaries into sharper focus. Their goal wasn't just American independence. Each sought a new world for all mankind." - Robert M. S. McDonald, United States Military Academy, author of CONFOUNDING FATHER
"This close-up, even intimate, view of three amazing personalities, engaged in a web of dangerous action, throws unexpected new light on the progress of the entire Revolutionary generation. Ferling's deep experience in founding history, and in storytelling, has him at the top of his game here. A powerful achievement--and a great read." - William Hogeland, author of AUTUMN OF THE BLACK SNAKE: THE CREATION OF THE U.S. ARMY AND THE INVASION THAT OPENED THE WEST
"John Ferling's latest engagement with the trials and triumphs of the American Revolutionary generation focuses in on the big questions: What makes a revolution just? And what can be expected to emerge when a revolution successfully concludes? This time the story is told through the combined writings and actions of three whose striving to preserve their ideals comes at a cost." - Andrew Burstein and Nancy Isenberg, coauthors of MADISON AND JEFFERSON
"Ferling's three "apostles" — Thomas Paine, Thomas Jefferson and James Monroe — had in common their efforts to spread revolution not only in America but also in France . . . all three hoped and worked for a society that was more democratic and more egalitarian. Paine and Monroe lived together for a stretch, as did Monroe and Jefferson, and the three men very much admired and appreciated what each brought to their shared cause. By following their intertwined lives, Ferling illuminates their early successes in America, their ultimate disillusionments in France and their subsequent re-dedication to spreading democracy in America." - Trend & Tradition
"Ferling's vivid descriptions will compel you to read this treasure repeatedly." - San Francisco Book Review on WHIRLWIND
"A nuanced study of the American Revolution . . . accomplished scholar [John] Ferling employs his extensive knowledge . . . A first-rate historian's masterful touch conveys the profound changes to colonists' 'hearts and minds.' " - Starred review, finalist for 2015 Book Prize, "Best Books of 2015", Kirkus Reviews on WHIRLWIND
"[A]n objective history . . . Ferling has created another accessible yet scholarly work on the American Revolution." - Library Journal on WHIRLWIND
Bloomsbury Publishing, 9781632862099, 496pp.
Publication Date: May 15, 2018
About the Author
John Ferling is Professor Emeritus of History at the State University of West Georgia. A leading authority on American Revolutionary history, he has appeared in many documentaries and has written numerous books, including Almost a Miracle: The American Victory in the War for Independence, Adams vs. Jefferson: The Tumultuous Election of 1800, The First of Men: A Life of George Washington, Setting the World Ablaze: Washington, Adams, and Jefferson in the American Revolution, and the award-winning A Leap in the Dark: The Struggle to Create the American Republic.
or
Not Currently Available for Direct Purchase