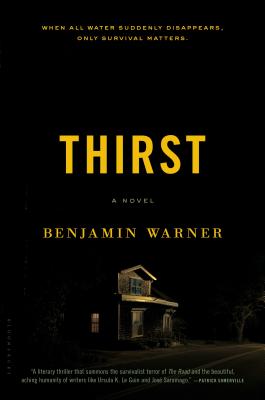 Thirst (Hardcover)
Bloomsbury USA, 9781632862150, 304pp.
Publication Date: April 12, 2016
Other Editions of This Title:
MP3 CD (9/27/2016)
* Individual store prices may vary.
Description
On a searing summer Friday, Eddie Chapman has been stuck for hours in a traffic jam. There are accidents along the highway, but ambulances and police are conspicuously absent. When he decides to abandon his car and run home, he sees that the trees along the edge of a stream have been burnt, and the water in the streambed is gone. Something is very wrong.
When he arrives home, the power is out and there is no running water. The pipes everywhere, it seems, have gone dry. Eddie and his wife, Laura, find themselves thrust together with their neighbors while a sense of unease thickens in the stifling night air.

Thirst takes place in the immediate aftermath of a mysterious disaster--the Chapmans and their neighbors suffer the effects of the heat, their thirst, and the terrifying realization that no one is coming to help. As violence rips through the community, Eddie and Laura are forced to recall secrets from their past and question their present humanity. In crisp and convincing prose, Ben Warner compels readers to do the same. What might you do to survive?
About the Author
Benjamin Warner teaches creative writing at Towson University. He is the editor of Voices and Visions, a literary magazine for the homeless community in Maryland. He holds an M.F.A. from Cornell University. Thirst is his first novel. A native of Annapolis, Maryland, he now lives in Baltimore.
Praise For Thirst…
"[An] utterly terrifying thriller . . . Warner's descriptions are so visceral." - EW.com, "10 Books You Have to Read in April"
"The novel is beautifully written with a gripping, heartbreaking tone. He doesn't just give you a peek into Eddie's mind, he cracks open Eddie's skull and shoves you right in the middle of it. The style is visceral and sharp, like a lucid nightmare." - Tor.com
"A timely, necessary, character-driven meditation on morality, society, and responsibility. Thirst presses us, accuses and implicates us in the failures of its characters, thereby rising above most of its brethren in the now-crowded genre of disaster fiction." - Chicago Review of Books
"Reminiscent of Cormac McCarthy's The Road, Warner's spare, chilling tale paints an unsettlingly realistic picture of society on the brink and the grim choices ordinary people might have to make when faced with the urgent need to survive." - Booklist
"[A] tense debut thriller . . . a beautiful portrayal . . . stellar . . . The way that the Chapmans respond to the primeval need to drink is horrific and realistic at the same time. Make sure a tall glass of something cold is nearby when enjoying Thirst." - Shelf Awareness
"Thirst is transportative and enveloping, so much so that you'll feel relieved when you can . . . reach for a glass of water." - Baltimore Magazine
"With a tight focus and a steadily increasing tension, the novel explores the limits of what we would give up of our humanity in order to survive. Warner achieves a chillingly claustrophobic atmosphere in which everything in the outside world becomes a threat." - Publishers Weekly
"The prose in Thirst offers the same feeling of sweltering oppression as a triple-digit July day. As the narrative develops, so too does that sense of suffocation--the reader is wrapped in the same overwhelming heat as Eddie and Laura. There are stretches when the tension is ratcheted up so high and written so evocatively that you'll occasionally find your tongue sticking to the roof of your mouth and you'll be seeking out a glass of something cold to drink . . . A tight, tense thriller." - The Maine Edge
"An emergency from its very first sentence, Thirst is a literary thriller that summons the survivalist terror ofThe Road and the beautiful, aching humanity of writers like Ursula K. Le Guin and José Saramago. It's also a tense, prescient journey into a collective environmental nightmare--one that's not very hard to imagine actually happening. This book tapped into fears I didn't know I had. Warner has given us a worthy, shocking, and poetic debut." - Patrick Somerville, author of THIS BRIGHT RIVER AND THE CRADLE
"Thirst mirrors the deep anxiety so many feel about modern life: that its complexity makes it fragile and that we're all living on the edge of disaster." - Mary Doria Russell, author of THE SPARROW and EPITAPH
"Yes, Thirst, Benjamin Warner's devastating and breathtaking debut, is a novel about water. But it's also about what it means to be in love, what it means to share--or to think you are sharing--your life with another person. This is a story about community (that ever slippery union) and, further still, about humanity. In limiting his fine focus to the particular--an unimposing suburban neighborhood suddenly isolated and inexplicably without water--Warner taps into a universal: Even at our lowest, our loneliest, and in our most desperate hour, we are still human, still connected, still capable of that sweet appreciation for what it means to be alive. My advice: Read this book. It will make you a better person." - Hannah Pittard, author of REUNION
"A gripping parable of love and survival as well as a harrowing exploration of our darkest selves. Thrilling and thought-provoking, and dazzling in scope, Benjamin Warner's debut is a surprising, profound portrait of desperation and humanity--and who we are when we are stripped down to our most basic needs." - Catherine Chung, author of FORGOTTEN COUNTRY
"A disturbing, enigmatic book, all the more troubling for its humdrum setting . . . This is a visceral book and . . . it excels . . . in its gut-wrenching descriptions of how dehydration ravages the body and mind. Stock up on bottled water before you read it." - The Scotland Herald
"Claustrophobic, neatly written and gripping." - Vogue UK
"Compelling . . . Thirst offers a thoroughly unsettling vision of an all-too-believable near future." - The Mail on Sunday