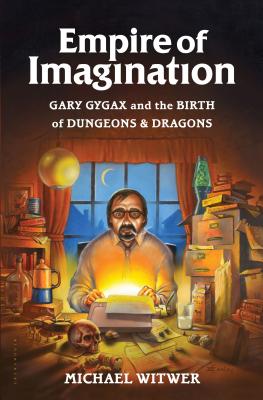 Empire of Imagination
Gary Gygax and the Birth of Dungeons & Dragons
Hardcover

* Individual store prices may vary.
Other Editions of This Title:
Paperback (6/7/2016)
MP3 CD (5/24/2016)
Description
The life story of Gary Gygax, godfather of all fantasy adventure games, has been told only in bits and pieces. Michael Witwer has written a dynamic, dramatized biography of Gygax from his childhood in Lake Geneva, Wisconsin to his untimely death in 2008.

Gygax's magnum opus, Dungeons & Dragons, would explode in popularity throughout the 1970s and '80s and irreversibly alter the world of gaming. D&D is the best-known, best-selling role-playing game of all time, and it boasts an elite class of alumni--Stephen Colbert, Robin Williams, and Junot Diaz all have spoken openly about their experience with the game as teenagers, and some credit it as the workshop where their nascent imaginations were fostered.

Gygax's involvement in the industry lasted long after his dramatic and involuntary departure from D&D's parent company, TSR, and his footprint can be seen in the genre he is largely responsible for creating. But as Witwer shows, perhaps the most compelling facet of his life and work was his unwavering commitment to the power of creativity in the face of myriad sources of adversity, whether cultural, economic, or personal. Through his creation of the role-playing genre, Gygax gave two generations of gamers the tools to invent characters and entire worlds in their minds. Told in narrative-driven and dramatic fashion, Witwer has written an engaging chronicle of the life and legacy of this emperor of the imagination.
Praise For Empire of Imagination: Gary Gygax and the Birth of Dungeons & Dragons…
"It turns out that while we were down in the basement exploring his world, Gary Gygax was having a tremendous adventure up here in ours. Thanks to Michael Witwer's book, I finally got to experience it." —David X. Cohen, Executive Producer of FUTURAMA

"We live in a time when the most important people in sports are using data--statistics, analytics--to make decisions with billion dollar consequences. We live in a time when digital gaming may be more influential in our culture than sports and movies combined. In short, we live in a world perhaps only Gary Gygax could have imagined decades ago. If you want to know where it all began, this book is as good a place as any to start." —Mike Greenberg, cohost of ESPN's MIKE & MIKE and bestselling author of MY FATHER'S WIVES and ALL YOU COULD ASK FOR

"Empire of Imagination tells the story of the emperor himself, at times brilliant, sometimes tragic, but ultimately victorious." —Peter Adkison, founder and former CEO of Wizards of the Coast, owner of Gen Con

"In vignettes which vividly illustrate Gygax's key role in the invention of modern gaming, Empire of Imagination shows us the rise of Dungeons & Dragons through the eyes of its most famous father. Gygax could not have hoped for a more attentive and sympathetic biographer." —Jon Peterson, author of PLAYING AT THE WORLD

"The work of Michael Witwer is all I could have hoped it would be! . . . If you want to know what it was like back when D&D was being born then this book is a must have." —Ernest Gary Gygax, Jr.

"Witwer's respect for Gygax is evident throughout . . . informative . . . Well-researched." —Kirkus

"Witwer cleverly sorts the narrative into 'levels' rather than chapters; each level opens with a D&D-style scene that both foreshadows and entertains." —Library Journal

"For fans of role-playing games, and D&D specifically, the book is required reading." —Booklist

"[E]ntertaining . . . a fascinating examination of the birth and growing pains of the gaming industry and of Gygax's lasting influence on pop culture." —Publishers Weekly

"Empire of Imagination is an absolute blast! The narrative is fast paced, while the depth of research made me feel like I was reliving the life of one of the most creative forces of our time. Witwer had me reaching for my 20 sided dice!" —Ben Mezrich, bestselling author of BRINGING DOWN THE HOUSE and ONCE UPON A TIME IN RUSSIA

"Not a dry, rigorous biographical tome . . . quite a fun read." —Frank Mentzer, former TSR staff designer and Creative Advisor to Gary Gygax

"[A] great achievement, a foundational biography, an important story to tell . . .You don't need to roll a d20 to find out whether you should buy this book. If you even know what I meant when I wrote 'd20,' the answer is yes." —Bookgasm

"Gary Gygax went on a long, treacherous and challenging journey in both his personal and business life and, after reading Michael Witwer's book, I feel as though I've been on a part of that journey, too . . . The book left me feeling warm and yet somewhat sad, but it was definitely a most satisfying read . . . Most highly recommended." —Jonathan Hicks, Farsight Blogger / RPG.net

"[I]f you are a gamer, live with a gamer or ever had the urge to understand why gamers, geeks and nerds do what they do, you must read this book." —d20radio.com

"If you have any interest in the origination of our hobby, read this book . . . amazingly entertaining and informative." —GeeksandGeeklets

"Empire of Imagination: Gary Gygax and the Birth of Dungeons & Dragons is a book no geek or role player of any sort should miss out on." —Metapunk.com

"[A] brilliant book." —Ian Livingstone CBE, Co-Founder of Games Workshop

"I highly recommend Empire of Imagination to anyone interested in gaming and the creative process." —Chris Perkins, D&D Principal Story Designer at Wizards of the Coast

"It's the most comprehensive look at Gygax's early life that I know of . . . Witwer excels at telling this story." —Shannon Appelcline, author of DESIGNERS & DRAGONS

"A fitting tribute to a complicated legacy." —Michael J. Tresca, author of THE EVOLUTION OF FANTASY ROLE-PLAYING GAMES
Bloomsbury USA, 9781632862792, 320pp.
Publication Date: October 6, 2015
About the Author
Michael Witwer is a lifelong gamer and gaming enthusiast. He holds degrees from Northwestern University and the University of Chicago, where this book first emerged as the subject of his master's thesis. He is also a film and theater actor and marketing professional, and is the brother of actor Sam Witwer, who originally introduced him to Dungeons & Dragons. He lives in Chicago, Illinois, with his wife and two children.
Coverage from NPR
or
Not Currently Available for Direct Purchase