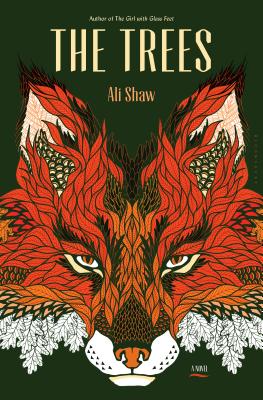 The Trees (Hardcover)
Bloomsbury USA, 9781632862839, 496pp.
Publication Date: August 2, 2016
Other Editions of This Title:
MP3 CD (8/2/2016)
Compact Disc (8/2/2016)
Compact Disc (8/2/2016)
* Individual store prices may vary.
Description
The Trees. They arrived in the night: wrenching through the ground, thundering up into the air, and turning Adrien's suburban street into a shadowy forest. Shocked by the sight but determined to get some answers, he ventures out, passing destroyed buildings, felled power lines, and broken bodies still wrapped in tattered bed linens hanging from branches.
It is soon apparent that no help is coming and that these trees, which seem the work of centuries rather than hours, span far beyond the town. As far, perhaps, as the coast, where across the sea in Ireland, Adrien's wife is away on a business trip and there is no way of knowing whether she is alive or dead.
When Adrien meets Hannah, a woman who, unlike him, believes that the coming of the trees may signal renewal rather than destruction and Seb, her technology-obsessed son, they persuade him to join them. Together, they pack up what remains of the lives they once had and set out on a quest to find Hannah's forester brother and Adrien's wife--and to discover just how deep the forest goes.
Their journey through the trees will take them into unimaginable territory: to a place of terrible beauty and violence, of deadly enemies and unexpected allies, to the dark heart of nature and the darkness--and also the power--inside themselves.
About the Author
Ali Shaw graduated from Lancaster University with a degree in English literature and has since worked as a bookseller and at Oxford's Bodleian Library. The Girl with Glass Feet is his first novel.
Praise For The Trees…
"[An] atmospheric modern fairy tale . . . This stunning exploration of love, hope, and the wildness inside us all will have readers enchanted from the first page." - Publishers Weekly
"An ecological sermon, bildungsroman, mystery, fairy tale, and horror story all combined into a novel about an improbable journey . . . A big, unclassifiable novel; it's worth the effort to enter a world that is never what it appears." —Kirkus
"Fantastically imagined . . . Shaw's most delightful offerings are the vivid details he provides to make the magical real . . . The end of the book, saturated with color and emotion, is risky and brave like the message it imparts. Only a heart of glass would be unmoved." —The New York Times Book Review on THE GIRL WITH GLASS FEET
"A rare orchid of a book, beautiful and eccentric and exquisitely sad." —Patrick Ness on THE GIRL WITH GLASS FEET
"Delicately crafted, just like its predecessor, its story haunting and thoroughly, charmingly different." —Sunday Times on THE MAN WHO RAINED
"[The Trees is] a complex and otherworldly meditation on nature . . . Shaw's language sings on the page whether he writes of the musty undergrowth of roots sinking into soil or the cool freedom of the ocean on his characters' skin." - Electric Literature
"Far more intellectually and emotionally compelling than the typical disaster novel . . . The Trees shifts between established genres, changing them enough to create surprise--and move beyond despair." - Locus Magazine