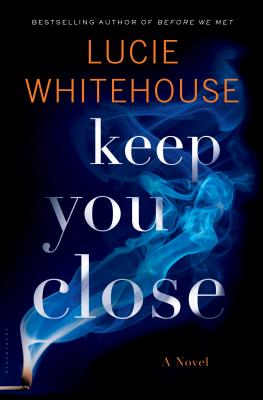 Keep You Close (Hardcover)
Bloomsbury USA, 9781632863201, 368pp.
Publication Date: May 3, 2016
Other Editions of This Title:
Paperback (1/17/2017)
* Individual store prices may vary.
Description
When the artist Marianne Glass falls to her death, everyone insists it was a tragic accident. Yet Rowan Winter, once her closest friend, suspects there is more to the story. Ever since she was young, Marianne had paralyzing vertigo. She would never have gone so close to the roof's edge.
Marianne--and the whole Glass family--once meant everything to Rowan. For a teenage girl, motherless with a much-absent father, this lively, intellectual household represented a world of glamour and opportunity.
But since their estrangement, Rowan knows only what the papers reported about Marianne's life: her swift ascent in the London art world, her much-scrutinized romance with her gallerist. If she wants to discover the truth about her death, Rowan needs to know more. Was Marianne in distress? In danger? And so she begins to seek clues--in Marianne's latest work, her closest relationships, and her new friendship with an iconoclastic fellow artist.
But the deeper Rowan goes, the more sinister everything seems. And a secret in the past only she knows makes her worry about her own fate . . .
About the Author
Lucie Whitehouse was born in Warwickshire in 1975, read Classics at Oxford University and now lives in Brooklyn, New York. She is author of The House at Midnight and the TV Book Club pick The Bed I Made.
@LWhitehouse5
Praise For Keep You Close…
"A wickedly addictive psychological thriller with enough twists and turns to keep genre enthusiasts captivated and reading well past their bedtime." - Library Journal (starred review)
"Nail-biting . . . An emotionally satisfying read that builds to a thrilling climax." - Publishers Weekly
"A first-rate psychological thriller about the decisions we make that forever define us." - Kirkus Reviews
"An absorbing, twisty psychological thriller that plays with the line between love and obsession." - Booklist
"Whitehouse's carefully constructed tinder ignites spectacularly. Whitehouse is a superb storyteller, whose sleight of hand and sly misdirections have you leaping to all the wrong conclusions from the outset. We do not know who can be trusted, least of all the increasingly volatile Rowan. The twist, and it would appear that no psych thriller is now complete without one, is right up there." - The Independent
"You know a psychological thriller has done its job when you get to the last page and have an urge to instantly return to the first, to work out just how you've been so thoroughly hoodwinked. In this case it's by elegant plotting, brilliant characterization and a truly killer twist." - The Sunday Mirror
"[A] quietly menacing psychological thriller that mines the trickier bits of family and friendship." - Washington Post
"Of course, things are not entirely what they seem, and readers are in for some surprising--and shocking!--revelations . . . It is masterfully done." - Pop Culture Association
"I devoured Keep You Close. Very clever, very gripping ... I loved it." - Susie Steiner, author of MISSING, PRESUMED
"Lucie Whitehouse's new novel, Keep You Close, kept me up all night long. I couldn't stop reading until I reached the final, shattering pages. Skillfully constructed and beautifully realized, Keep You Close is the next must-read for fans of The Girl on the Train." - Amanda Eyre Ward, author of HOW TO BE LOST and THE SAME SKY
Why do you think Marianne's nude drawing of Rowan has such an effect on Rowan when she finds it?
Were you able to guess the secret that Rowan and Marianne were keeping before it was revealed? What clues were given throughout the novel? If not, did you have other theories about what it might be? What were they?
We only get descriptions of Marianne through other characters, but did you feel like you were able to get a good sense of who she was? Why or why not?
Do you think Rowan was at all justified in her actions, or were you able to empathize with her at all? Why or why not?
Did you like the way the book ended, or would you have liked to have seen what came next?
Did your perception of some of the characters, particularly Rowan and Michael Cory, change as the novel progressed? In what ways?
What techniques does Whitehouse use to maintain an air of suspense? Did you find these effective? Why or why not?
How do you think Rowan's relationship with her father affected her as an adult?
Discuss the differences between Marianne's relationship with her father and Rowan's relationship with hers, including the contrast between Marianne's reaction to her father's infidelity and Rowan's reaction to news that her father is remarrying.
What is your take on Jacqueline and Seb's marriage? Do you sympathize with Jacqueline, Seb, both, neither?
How do you think the title of the book can be interpreted?
The book has a circular structure, returning to the opening scene at the end of the story. What was your perception of the scene when you first read it? Were you surprised to learn what the scene actually depicted?
Do you think Greenwood's protection of his daughter is justified? Why or why not?
Discuss Greenwood and Cory's differing interpretations of Marianne's paintings of the anorexic girls. Why do you think each man saw the paintings the way he did?
Do you think Adam should have told his family what he knew about Rowan? Do you think the knowledge would have provided closure, or caused more damage?
Marianne sent Rowan a note saying she needed to talk to her. What do you think Marianne would have said if that conversation had actually taken place?
or
Not Currently Available for Direct Purchase