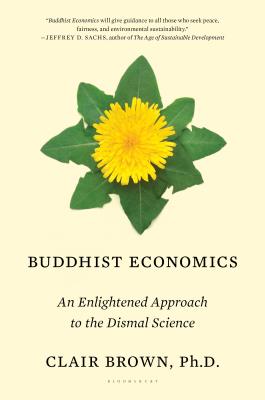 Buddhist Economics (Hardcover)
An Enlightened Approach to the Dismal Science
Bloomsbury Press, 9781632863669, 224pp.
Publication Date: February 21, 2017
* Individual store prices may vary.
Description
In the tradition of E. F. Schumacher's Small Is Beautiful, renowned economist Clair Brown argues persuasively for a new economics built upon equality, sustainability, and right living.

"Buddhist Economics will give guidance to all those who seek peace, fairness, and environmental sustainability." -Jeffrey Sachs, author of The Age of Sustainable Development.

Traditional economics measures the ways in which we spend our income, but doesn't attribute worth to the crucial human interactions that give our lives meaning.

Clair Brown, an economics professor at U.C. Berkeley and a practicing Buddhist, has developed a holistic model, one based on the notion that quality of life should be measured by more than national income. Brown advocates an approach to organizing the economy that embraces rather than skirts questions of values, sustainability, and equity. Complementing the award-winning work of Jeffrey Sachs and Bill McKibben, and the paradigm-breaking spirit of Amartya Sen, Robert Reich, and Thomas Piketty, Brown incorporates the Buddhist emphasis on interdependence, shared prosperity, and happiness into her vision for a sustainable and compassionate world.

Buddhist economics leads us to think mindfully as we go about our daily activities, and offers a way to appreciate how our actions affect the well-being of those around us. By replacing the endless cycle of desire with more positive collective activities, we can make our lives more meaningful as well as happier. Inspired by the popular course Professor Brown teaches at U.C. Berkeley, Buddhist Economics represents an enlightened approach to our modern world infused with ancient wisdom, with benefits both personal and global, for generations to come.
About the Author
Clair Brown is a professor of economics and director of the Center for Work, Technology, and Society at the University of California, Berkeley. An economist focusing on work and economic justice, she is a past director of the Institute of International Relations at Berkeley, and chair of the Committee on Education Policy of the UCB Academic Senate. She lives in Richmond, CA.
Praise For Buddhist Economics: An Enlightened Approach to the Dismal Science…
"This book will both shake up one's worldview and help calm one's agitated soul. It's a reminder that 'economics' is infinitely more interesting than the reductionist kind we teach in universities, and that 'religion' has far more to offer our everyday lives than we sometimes imagine." - Bill McKibben, Author EAARTH and Founder 350.org

"An important and provocative book about where conventional economics goes wrong. As Clair Brown masterfully shows, a new and more sensible economics would focus on a sustainable environment, shared prosperity, and interdependence. Instead of being a dismal science, economics should be an inspiring story of how we can work together to improve the quality of life for all." - Robert B. Reich, Chancellor's Professor of Public Policy, University of California at Berkeley, and author of SAVING CAPITALISM

"Buddhist Economics will inspire people to seek a better and wiser use of society's know-how and resources. Brown declares her goal to 'expand the dialogue among people around the world who seek meaningful lives for all.' In this she succeeds splendidly." - Jeffrey D. Sachs, Special Advisor to the UN Secretary-General on the Millennium Development Goals, director of the Earth Institute at Columbia University

"A long, long time ago Adam Smith demonstrated that the economy would work pretty well if everyone were selfish. But Clair Brown has done considerably better. Her perceptive, interesting, fun book, Buddhist Economics, demonstrates that we could be so much more well off in many different ways, if, instead, we were just nice. This book has important messages for everyone. I hope that it will be read by all economists, and also by everyone else." - George Akerlof, Nobel Laureate in Economics, 2001

"Revolutionary and urgently needed. This brilliant and beautifully argued book will not only change how you think about the most pressing problems that concern us all, it will inspire you to paths of action that lead to those problems' solutions. This is a game-changing read." - Dacher Keltner, author of THE POWER PARADOX
or
Not Currently Available for Direct Purchase