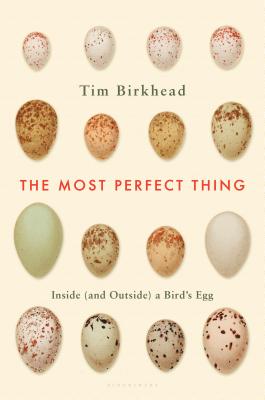 The Most Perfect Thing (Hardcover)
Inside (and Outside) a Bird's Egg
Bloomsbury USA, 9781632863690, 304pp.
Publication Date: April 12, 2016
Other Editions of This Title:
MP3 CD (7/4/2017)
* Individual store prices may vary.
Description
A bird's egg is a nearly perfect survival capsule--an external womb--and one of natural selection's most wonderful creations.
Shortlisted for the Royal Society Insight Investment Science Book Prize 2016.One of Forbes' Best Books About Birds and Birding in 2016.
Renowned ornithologist Tim Birkhead opens this gripping story as a female guillemot chick hatches, already carrying her full quota of tiny eggs within her undeveloped ovary. As she grows into adulthood, only a few of her eggs mature, are released into the oviduct, and are fertilized by sperm stored from copulation that took place days or weeks earlier. Within a matter of hours, the fragile yolk is surrounded by albumen and the whole is gradually encased within a turquoise jewel of a shell. Soon the fully formed egg is expelled onto a rocky ledge, where it will be incubated for four weeks before a chick emerges and the life cycle begins again.
THE MOST PERFECT THING is about how eggs in general are made, fertilized, developed, and hatched. Birkhead uses birds' eggs as wondrous portals into natural history, enlivened by the stories of naturalists and scientists, including Birkhead and his students, whose discoveries have advanced current scientific knowledge of reproduction.
About the Author
Tim Birkhead is a professor at the University of Sheffield where he teaches animal behaviour and the history of science. He is a Fellow of the Royal Society of London and his research has taken him all over the world in the quest to understand the lives of birds. He has written for The Independent, New Scientist, BBC Wildlife. Among his other books are Promiscuity, Great Auk Islands, The Cambridge Encyclopaedia of Birds which won the McColvin medal and The Red Canary which won the Consul Cremer Prize. He is married with three children and lives in Sheffield.
Praise For The Most Perfect Thing: Inside (and Outside) a Bird's Egg…
"Excellent book . . . [Birkhead's] intimacy with his avian subjects, and with everything he and centuries of others have observed about them, makes Mr. Birkhead's hypotheses--and his books--so compelling." - The Wall Street Journal
"Birkhead's curiosity is contagious, and his deep respect for this most ubiquitous of nature's creations gives his words a degree of reverence that is both admirable and welcome . . . Absolutely delightful!" - starred review, Booklist
"A thrilling voyage through what most of us think of as an ordinary item sold at the supermarket. . . . One doesn't have to be a bird enthusiast to relish this book, but it would be the most perfect gift for anyone who is." - starred revew, Kirkus Reviews
"Birkhead manages to contain what could have become an unwieldy topic, and readers with little familiarity in guillemot eggs specifically will still find the material fascinating." - Publishers Weekly
"[Birkhead] writes clearly, with accuracy and wit . . . Birkhead's historical acumen and sharp pen had me seeing eggs in a new light. He has convinced me that they are splendid, if not indeed most perfect." - Nature
"Entertaining and elegant . . . Birkhead's book is not to be missed. Crack it open and enjoy the riches it contains." - Natural History
"Who could imagine that tiny bird eggs were such mind-blowing scientific marvels? As compelling and inherently fascinating as it is informative and 'reader friendly' in composition and presentation, THE MOST PERFECT THING is very highly recommended." - Midwest Book Review
"With THE MOST PERFECT THING Tim Birkhead proves he's one of ornithology's greatest popularizers. Through the passion he has for his subject and the clarity of his writing, he'll have you wondering how you ever managed to take eggs for granted." - Hipster Birder
"[A]n interesting, comprehensible exploration of eggs. It will help anyone understand this 'most perfect thing.' More than that, though, it gives a tantalizing taste of the exciting things just waiting to be discovered even about topics that we might, naïvely, consider mundane." - The Bird's Library