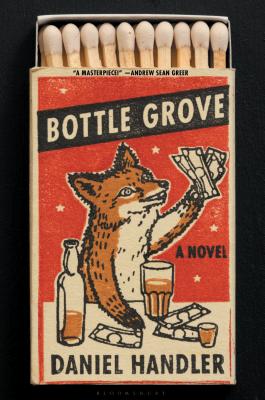 Bottle Grove
A Novel
Hardcover

* Individual store prices may vary.
Description
A razor-sharp tale of two couples, two marriages, a bar, and a San Francisco start-up from a best-selling, award-winning novelist.

This is a story about two marriages. Or is it? It begins with a wedding, held in the small San Francisco forest of Bottle Grove--bestowed by a wealthy patron for the public good, back when people did such things. Here is a cross section of lives, a stretch of urban green where ritzy guests, lustful teenagers, drunken revelers, and forest creatures all wait for the sun to go down. The girl in the corner slugging vodka from a cough-syrup bottle is Padgett--she's keeping something secreted in the woods. The couple at the altar are the Nickels--the bride is emphatic about changing her name, as there is plenty about her old life she is ready to forget.

Set in San Francisco as the tech-boom is exploding, Bottle Grove is a sexy, skewering dark comedy about two unions--one forged of love and the other of greed--and about the forces that can drive couples together, into dependence, and then into sinister, even supernatural realms. Add one ominous shape-shifter to the mix, and you get a delightful and strange spectacle: a story of scheming and yearning and foibles and love and what we end up doing for it--and everyone has a secret. Looming over it all is the income disparity between San Francisco's tech community and . . . everyone else.
Praise For Bottle Grove: A Novel…
"Set in San Francisco during the Big Bang of tech, this taut novel sees two marriages form and mutate under the influence of greed, secrets, and income inequality. With this dark, timely comedy, Handler continues to prove himself a writer of prodigious gifts." - Esquire, "Most Anticipated Books of the Year"

"Handler has filled his novel with ritzy elite, lustful teenagers, drug addicts, and creatures of the forest awaiting the release that comes with the night. His wit is dry and offbeat adding realism to the story and showing the breadth of his unique abilities." - The Advocate, The Best Thriller & Fantasy Novels We Read in 2019

"The shadow of this fox looms throughout the book, prowling through the city and seducing and consuming the lives of Handler's characters. This sense of the inhuman and predatory . . . serves as the backdrop of the novel: a rapidly changing San Francisco that, to some, feels like it is eating its own." - San Francisco Chronicle

"Handler spices up the tech-novel's conventions with a bit of fantasy." - Washington Post

"A clever cocktail of people, places and plotlines that swill around in your soul." - San Jose Mercury News

"Delightfully and caustically wise." - San Francisco Magazine

"Oh lucky you to have Bottle Grove in your hands! What a funny, riveting, heartbreaking, wise and joyous read you have ahead of you! A masterpiece by Daniel Handler, one of our greatest storytellers. How I envy you." - Andrew Sean Greer, author of LESS, Winner of the 2018 Pulitzer Prize

"This witty book is, like San Francisco itself, simultaneously glossy and grimy, hi-tech and low-life. Daniel Handler is one of the quickest minds around, and he is clearly having a grand time here, taking the reader down a drunken path that is both dreamy and as fast-paced as a screwball comedy." - Emma Straub, New York Times bestselling author of MODERN LOVERS and THE VACATIONERS

"Bottle Grove is a cozy bar, a haunted forest, and a spellbinding new novel by a master of contemporary fiction. With his sly sense of humor and surpassing wisdom about the wildness that exists just below the surface of our lives, Daniel Handler has created an entrancing and very modern story that doubles as a folklore for our time. It's one of those rare novels that you really don't want to end, and you're in luck, because you can read it again." - Tom Drury, author of PACIFIC

"A timely satire of love, wealth and the meaning of home . . . A hilarious yet bittersweet love letter to San Francisco." - Shelf Awareness

"A hilarious tale about unlikely couples set during the San Francisco dot-com explosion. . . . Handler cleverly exposes the sinister sides of his protagonists as they clamor for what they think they deserve. Readers expecting Handler's trademark humor and bite won't be disappointed." - Publishers Weekly

"A drunkenly humorous blend of alcohol, entrepreneurial ambitions, and a dash of cheating . . . [Handler's] quickwitted, timely characters and offbeat but perceptive one-liners make for an intoxicating delight. . . . Funny, irreverent, and clever." - Booklist

"This darkly funny novel is guaranteed to pull readers deeply in." - Manhattan Book Review

"Bottle Grove is by turns chilling and hilarious, even as it has the ring of truth… Handler is a natural at crafting the supernatural frisson. He knows the perfect literary hand-waves needed to suggest the monstrous aspects of the nicest so-called men, and the menace implicit on the most ordinary gestures. The dark wit behind the Lemony Snicket novels finds an excellent palette in the contemporary horror tale." - Narrative Species

"Superb, written with an unflinching eye for comedy and horror." - New York Times Book Review on WE ARE PIRATES

"This impossible-to-put-down novel is a dare. Step in, be swept away." - The Agony Column, NPR, on ALL THE DIRTY PARTS

"A fascinating, profane book . . . All the Dirty Parts is a shockingly original novel--readers might be reminded of Philip Roth's famously raunchy Portnoy's Complaint . . . It deserves to be read widely, and not just by adults--it's one of the most realistic depictions of the sex lives of young people to come around in a long time." - Los Angeles Times on ALL THE DIRTY PARTS

"An irreverent, intimate glimpse inside adolescent desire, sexual identity, and emotional discovery." - Buzzfeed, "Exciting New Books You Need to Read This Fall" on ALL THE DIRTY PARTS

"[A] dark and whimsical novel . . . Yes, we are pirates, but we're chained on barren land. Has that theme ever been explored in such a weird mixture of impish wit and tender sympathy?" - Washington Post on WE ARE PIRATES

"The language is what's sensuous here, and Handler often dips his toe into Joyce--never a full descent into the Irishman's decadence, but the two are kinsmen in how fast their prose moves, at the speed of rushing blood." - San Francisco Chronicle on ALL THE DIRTY PARTS
Bloomsbury Publishing, 9781632864277, 240pp.
Publication Date: August 27, 2019
About the Author
Daniel Handler is the author of the novels All the Dirty Parts, We Are Pirates, The Basic Eight, Watch Your Mouth, Adverbs, and Why We Broke Up. As Lemony Snicket, he is responsible for many books for children, including the thirteen-volume sequence A Series of Unfortunate Events and the four-book series All the Wrong Questions. He is married to the illustrator Lisa Brown, and lives with her and their son in San Francisco.
or
Not Currently Available for Direct Purchase