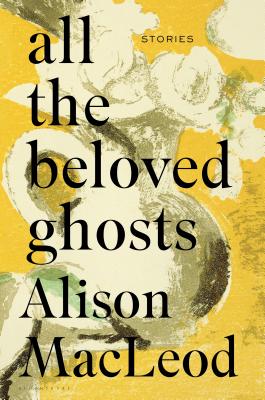 All the Beloved Ghosts (Hardcover)
Bloomsbury USA, 9781632865434, 256pp.
Publication Date: April 18, 2017
* Individual store prices may vary.
Description
An acutely observed, evocative collection of short stories blending fiction, biography, and memoir--from a Booker-longlisted author.
Evocative, sensual, and tender, these stories confront our reality culture and interrogate our relationship with iconic figures, coming to life at the boundary between reality and fiction.
A woman emerging from mourning spends her savings on a fur coat, a coat she will wear to a dance that will change her life. A professor of cardiovascular physiology lingers on the cusp of consciousness as he waits for his new heart to be delivered, still beating, from another body--and is carried on a tidal wave of memories to an attic room half a century ago. Visiting Sylvia Plath's grave in Yorkshire, the author imagines a conversation with the poet, a fellow North American who settled in grey England. She reflects on the treasured photograph of Princess Diana she took as a teenager, one of a multitude taken during a life cut short. And at Charleston, Angelica Garnett, child of the Bloomsbury group, is overpowered by echoes of the past; by all the beloved ghosts that spring to life before her eyes.
MacLeod's characters hover on the border of life and death, where memory is most vivid and the present most elusive. Moving from the London riots of 2011 to 1920s Nova Scotia, from Oscar Wilde's grave to the Brighton Pier, these exquisitely formed stories capture the small tragedies and profound truths of existence.
About the Author
Alison MacLeod is a novelist, short-story writer, and essayist. Her most recent novel, Unexploded, was longlisted for the 2013 Man Booker Prize and was a Book of the Year for the Observer. She's been nominated for the BBC National Short Story Award and the Sunday Times EFG International Short Story Award. Born and raised in Canada, she is currently the professor of contemporary fiction at the University of Chichester in England and an Eccles British Library Writer in Residence.
Praise For All the Beloved Ghosts…
"Wide-ranging and haunting . . . All these stories are written in striking prose that seamlessly blends the real with the fictive, tapping into the unknown with compassion and genuine human emotion . . . subtly moving and thoroughly engaging." - starred Review, Kirkus
"MacLeod's collection of stories deftly blends fiction and facts, memory and biography, to delve into the precarious nature of human life. . . . Finely layered and often teasingly opaque, MacLeod's captivating book of stories presents a diverse array of voices, each as particular as the last." - Publishers Weekly
"[A] brilliant gathering of short fiction." - starred review, Booklist
"Through nuanced and often lyrical prose, MacLeod imbues cultural figures and events with color and emotional authenticity. Even rumors are swaddled in a luminous believability until they are beyond doubt." - Los Angeles Review of Books
"Alison MacLeod blends memoir and fiction to stunning effect . . . The collection's haunting prose is by turns heartbreaking and uplifting, transforming the stories' heavy themes into something entirely unique." - Paste, "30 Best Books of 2017 (So Far)"
"If you read only one book of short stories this year, it should be this one . . . . MacLeod obviously loves taking risks--mixing the metaphysical with the mundane--and she is so brilliant at it that she never fails to keep the reader engaged." - Daily Mail
"[MacLeod] has an engaged delight in the stuff of life." - Times Literary Supplement on THE WAVE THEORY OF ANGELS
"There's a giddying range of things to think about in MacLeod's collection of short stories, which range from gleeful comedy to aching tragedy . . . As formally inventive as it is original in its subject matter." - The Guardian on FIFTEEN MODERN TALES OF ATTRACTION
"MacLeod's range - spanning the movingly real to the mysteriously surreal - is excitingly, imaginatively realised and unified in awareness of the dark menace of love's uncertainty." - Metro on FIFTEEN MODERN TALES OF ATTRACTION
"A baker's dozen of excellence book-ended by brilliance. . . An eruption of ideas and linguistic flair that corrals the uncontainable and unpoliceable vagaries of human desire, Fifteen Modern Tales of Attraction is a potent and heady mix . . .The whole is ably piloted by MacLeod's total and impressive control of her material. Highly recommended." - Time Out on FIFTEEN MODERN TALES OF ATTRACTION
"Like a piece of finely wrought ironwork, uncommonly delicate but at the same time astonishingly strong and tensile . . . a novel of staggering elegance and beauty." - Independent on UNEXPLODED
"MacLeod remains one of the most astute chaoticians writing today." - The Guardian on UNEXPLODED
"Full of simmering tension, resentment and unexpressed passion. A bold, cleverly-told story from a writer who knows exactly what she's doing." - Observer on UNEXPLODED
or
Not Currently Available for Direct Purchase