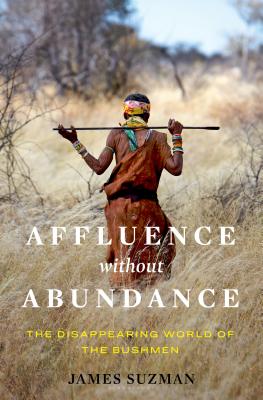 Affluence Without Abundance
What We Can Learn from the World's Most Successful Civilisation
Hardcover

* Individual store prices may vary.
Description
"Insightful and well-written . . . [Suzman chronicles] how much humankind can still learn from the disappearing way of life of the most marginalized communities on earth." —Yuval Noah Harari, author of SAPIENS: A BRIEF HISTORY OF HUMAN KIND and HOMO DEUS: A BRIEF HISTORY OF TOMORROW

WASHINGTON POST'S 50 NOTABLE WORKS OF NONFICTION IN 2017
AN NPR BEST BOOK OF 2017

A vibrant portrait of the "original affluent society"—the Bushmen of southern Africa—by the anthropologist who has spent much of the last twenty-five years documenting their encounter with modernity.

If the success of a civilization is measured by its endurance over time, then the Bushmen of the Kalahari are by far the most successful in human history. A hunting and gathering people who made a good living by working only as much as needed to exist in harmony with their hostile desert environment, the Bushmen have lived in southern Africa since the evolution of our species nearly two hundred thousand years ago.

In Affluence Without Abundance, anthropologist James Suzman vividly brings to life a proud and private people, introducing unforgettable members of their tribe, and telling the story of the collision between the modern global economy and the oldest hunting and gathering society on earth. In rendering an intimate picture of a people coping with radical change, it asks profound questions about how we now think about matters such as work, wealth, equality, contentment, and even time. Not since Elizabeth Marshall Thomas's The Harmless People in 1959 has anyone provided a more intimate or insightful account of the Bushmen or of what we might learn about ourselves from our shared history as hunter-gatherers.
Praise For Affluence Without Abundance: What We Can Learn from the World's Most Successful Civilisation…
"An insightful and well-written book, describing the hard transition of foraging communities in Namibia from relative affluence during the Stone Age to contemporary poverty and misery. Avoiding both modern conceits and romantic fantasies, Suzman chronicles how economics and politics have finally conquered some of the last outposts of hunter-gatherers, and how much humankind can still learn from the disappearing way of life of the most marginalized communities on earth." - Yuval Noah Harari, author of SAPIENS: A BRIEF HISTORY OF HUMAN KIND and HOMO DEUS: A BRIEF HISTORY OF TOMORROW

"To know what it is like to live as people lived for most of human history, you would have to find one of the places where traditional hunting-and-gathering practices are still alive…Fortunately for us, the anthropologist James Suzman did exactly that…The news here is that the lives of most of our progenitors were better than we think. We're flattering ourselves by believing that their existence was so grim and that our modern, civilized one is, by comparison, so great." - John Lancaster, The New Yorker

"Suzman's descriptive prose and affection for his subjects generate the reader's genuine empathy…This fascinating glimpse into a disappearing way of life leads Suzman to reflect on our world today: a world where wealth and possessions are valued above all other pursuits. Suzman's account of the lives of Bushmen, past and present, offers plenty of fuel for thought." - Rachel Newcomb, The Washington Post

"Mr Suzman deftly weaves his experiences and observations with lessons on human evolution, the history of human migration and the fate of African communities since the arrival of Europeans. The overarching aim of the book is more ambitious still: to challenge the reader's ideas about both hunter-gatherer life and human nature." - The Economist

"[Suzman creates] a feeling for the landscape, the difficulties encountered by the Bushmen, and the pleasures of their simple, if rapidly changing, way of life... In all, this is a delightful book, full of perceptiveness and understanding." - Science

"[A] fascinating book. . . Part-ethnography, part-memoir, this is a poignant account of a culture on the brink of extinction." - Sunday Times

"Suzman's talent for evoking the region's vast and haunting landscapes, his elegiac account of a passing covenant with nature, and his warm and compassionate character sketches of individual Ju'/hoansi, make this a fascinating and at times profoundly moving work of literary non-fiction." - The Irish Times

"[T]hrough neglect, abuse and misunderstanding, an ancient way of life is being finally extinguished… Yet, Suzman argues, even now the Bushmen have much to teach us about a social order that, in many ways, offered a freer, fairer existence and a non-invasive adaption to ecology." - Ben Collyer, New Scientist

"This book has truth on every page and is filled with important insights that range from hunting and tracking to how we think about time, money, value or success." - Elizabeth Marshall Thomas, author of THE HARMLESS PEOPLE and THE OLD WAY

"This beautiful book--part memoir, part ethnography--offers a window into the lives of one of the most enduring of human cultures . . . If you have ever wondered how it might be to measure wealth not by material possessions but by the strength of social relations between people, read this book." - Wade Davis, author of THE WAYFINDERS and INTO THE SILENCE

"[A] beautiful, heartfelt paean. AFFLUENCE WITHOUT ABUNDANCE is learned without being condescending, tender yet unsentimental. It is both a celebration of an ancient way of life and a lament for all that has been lost in our own headlong pursuit of the material." - Peter Godwin, author of MUKIWA and WHEN A CROCODILE EATS THE SUN

"A spirited ethnography of the ancestral peoples of the Kalahari . . . A welcome contribution to a once-vibrant anthropological literature without many recent entries." - Kirkus Reviews

"In his thoughtful, in-depth look, [Suzman] focuses on the Ju/'hoansi people, whom he has been working with for more than two decades… A fascinating examination of a society drastically changed by forced modernity." - Booklist
Bloomsbury USA, 9781632865724, 320pp.
Publication Date: July 11, 2017
About the Author
James Suzman, Ph.D., is an anthropologist specializing in the Khoisan peoples of southern Africa. A recipient of the Smuts Commonwealth Fellowship in African Studies at Cambridge University, he is now the director of Anthropos Ltd., a think tank that applies anthropological methods to solving contemporary social and economic problems. He lives in Cambridge, England.
or
Not Currently Available for Direct Purchase