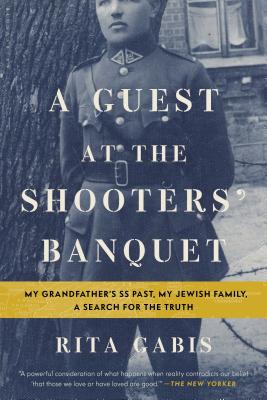 A Guest at the Shooters' Banquet
My Grandfather's SS Past, My Jewish Family, A Search for the Truth
Paperback

* Individual store prices may vary.
Other Editions of This Title:
Hardcover (9/8/2015)
MP3 CD (2/9/2016)
Description
In prose as beautiful as it is powerful, Rita Gabis follows the trail of her grandfather's collaboration with the Nazis--a trail riddled with secrets, slaughter, mystery, and discovery.

Rita Gabis comes from a family of Eastern European Jews and Lithuanian Catholics. She was close to her Catholic grandfather as a child and knew one version of his past: prior to immigration he had fought the Russians, whose brutal occupation of Lithuania destroyed thousands of lives before Hitler's army swept in.

Decades later, Gabis discovered an unthinkable dimension to her family story: from 1941 to 1943, her grandfather had been the chief of security police under the Gestapo in the Lithuanian town of Švencionys, near the killing field of Poligon, where eight thousand Jews were murdered over three days in the fall of 1941. In 1942, the local Polish population was also hunted down. Gabis felt compelled to find out the complicated truth of who her grandfather was and what he had done.

Built around dramatic interviews in four countries, filled with original scholarship, and mesmerizing in its lyricism, A Guest at the Shooters' Banquet is a history and family memoir like no other, documenting "the holocaust by bullets" with a remarkable quest as Gabis returns again and again to the country of her grandfather's birth to learn all she can about the man she thought she knew.
Praise For A Guest at the Shooters' Banquet: My Grandfather's SS Past, My Jewish Family, A Search for the Truth…
"Engrossing . . . An eloquent testimony to the war's enduring, violent impact." —starred review, "Best Books of 2015", Kirkus Reviews

"Intense, moving . . . A deeply personal and important addition to Holocaust literature." —starred review, Booklist

"[A] powerful consideration of what happens when reality contradicts our belief 'that those we love or have loved are good.'"—The New Yorker

"A journey of discovery . . . thoughtful." —Library Journal

"Heartfelt . . . Gabis paints an engrossing portrait of the snake-pit of ethnic animosities in wartime Lithuania, and of the intimate horrors of the Holocaust." —Publishers Weekly

"In this intricate and intimate journey Rita Gabis brings macrocosmic Holocaust horror into the microcosm of our dining rooms, kitchens, and bedrooms--a noble feat, one you will not soon forget." —New York Journal of Books

"A Guest at the Shooters' Banquet is Gabis's gripping, psychologically acute account of her search for the truth about [her grandfather], a wrenching personal journey . . . Gabis' resolute hunt and expressive prose really illuminate these years of anguish." —BookPage

"Rita Gabis's memoir--the result of more than three years of tenacious and innovative historical and personal research . . . is a mind-opening and heart-breaking account." —Jewish Book Council

"More than any nonfiction I have read, A Guest at the Shooter's Banquet brings up close the Final Solution as lived in the forests and villages of Eastern Europe during the closing years of World War II. Most extraordinary is the intimacy with her own conscience that Rita Gabis affords us, as on her uncompromising quest she brings alive the Lithuania of her Jewish family, their friends and neighbors, the survivors and descendants who guide her, and the murderous and shocking complicity of her Catholic grandfather. This book has the richness and sweep of a saga novel, the bite of a thriller, and the revelatory shock of a great memoir." —Honor Moore, author of THE BISHOP'S DAUGHTER

"Maturing from childhood to adulthood means accepting a place in family stories. Checking treasured myths against historical facts is like a second coming of age, and one rarely achieved. This true-life Bildungsroman sets an example, in its honesty, industry, and artfulness, for writers who wish to confront the past." —Timothy Snyder, author of BLOODLANDS: EUROPE BETWEEN HITLER AND STALIN

"A most memorable book." —St. Louis Dispatch

"This unsettling, unnerving book makes you think of the what-ifs of both the past and the present. Gabis touches so many who had never had the courage or ability to tell their stories, and those who had never heard them. This should be on everyone's To Be Read list. It will make you examine your own conscience. Very highly recommended." —Historical Novel Society
Bloomsbury USA, 9781632866233, 464pp.
Publication Date: September 6, 2016
About the Author
Rita Gabis is an award-winning poet and prose writer. Her grants and fellowships include a New York Foundation for the Arts Award for creative nonfiction and residencies at Yaddo and the Fine Arts Work Center in Provincetown, Massachusetts. She is the author of the poetry collection The Wild Field (Alice James Books). Her work has appeared in Harvard Review, Poetry, and elsewhere. She lives and teaches in New York City.
or
Not Currently Available for Direct Purchase